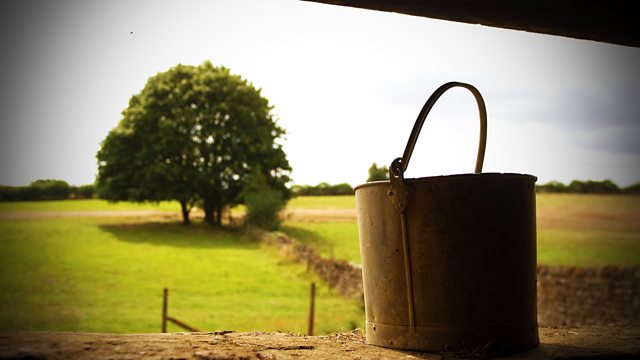 12/04/2013
Eddie and Clarrie discuss sending their ferret, Adele, to start having kits. Pregnancy is a hot topic for the Grundy family as Nic and Will arrive at Keeper's Cottage with some great news of their own. Delighted Clarrie thinks that Nic and Will having a child of their own will make their marriage even stronger.
Tony chats to Jazzer as he loads up the feed. Jazzer isn't in a hurry to get back to Tom; he's in the mood for a natter. He doesn't think his boss will notice his absence, as Tom has been working flat out all day, running around completing his work in complete silence.
When Pat joins them, Jazzer relays Jim's plans to interview Brian. Pat and Tony aren't happy with Jim's interviewee choice. They don't think it is in keeping with the series' supposed aim to shine a light on less well known locals, as Brian has received much publicity.
Later, Pat and Tony discuss their son's quiet demeanour and think he's having doubts about selling the herd. Whatever his problem, frustrated Pat and Tony think Tom owes it to them to keep them informed.
Last on
Credits
| Role | Contributor |
| --- | --- |
| Writer | Adrian Flynn |
| Director | Peter Leslie Wild |
| Producer | Vanessa Whitburn |
| Jill Archer | Patricia Greene |
| Shula Hebden-Lloyd | Judy Bennett |
| Tony Archer | Colin Skipp |
| Pat Archer | Patricia Gallimore |
| Helen Archer | Louiza Patikas |
| Tom Archer | Tom Graham |
| Lilian Bellamy | Sunny Ormonde |
| Peggy Woolley | June Spencer |
| Eddie Grundy | Trevor Harrison |
| Clarrie Grundy | Heather Bell |
| William Grundy | Philip Molloy |
| Nic Grundy | Becky Wright |
| Neil Carter | Brian Hewlett |
| Alice Carter | Hollie Chapman |
| Mike Tucker | Terry Molloy |
| Vicky Tucker | Rachel Atkins |
| Hayley Tucker | Lorraine Coady |
| Brenda Tucker | Amy Shindler |
| Caroline Sterling | Sara Coward |
| Jazzer McCreary | Ryan Kelly |
| Jim Lloyd | John Rowe |
| Paul Morgan | Michael Fenton Stevens |
| Celia Redwood | Anita Dobson |
| Jonathan Roberts | James Howard |
| Callum Longfield | Tommy Jessop |