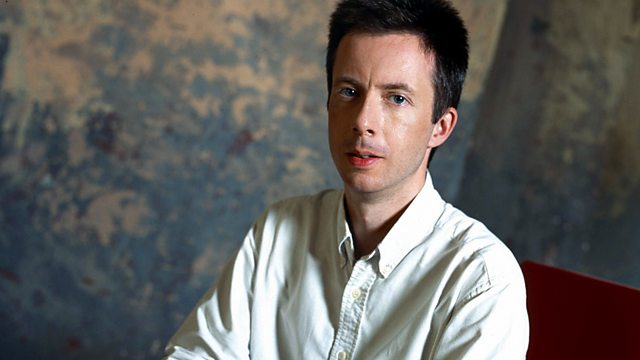 13/04/2013
John Shea presents a performance of Fauré's Requiem from St Eustache in Paris. The programme also features Saint-Saëns' Violin Concerto performed by rising star Fanny Clamagirand.
1:01 AM
Saint-Saens, Camille (1835-1921)
Violin concerto no. 3 in B minor (Op.61)
Fanny Clamagirand (violin), Orchestre National de France, Alain Altinoglu (conductor)
1:30 AM
Ysaÿe, Eugène (1858-1931)
Malinconia (Poco lento) from Sonata no. 2 in A minor Op.27'2 (Obsession) for solo violin
Fanny Clamagirand (violin)
1:34 AM
Fauré, Gabriel (1845-1924)
Requiem Op.48
Amel Brahim-Djelloul (soprano), Edwin Crossley-Mercer (baritone), Radio France Chorus , Orchestre National de France, Alain Altinoglu (conductor)
2:11 AM
Ysaÿe, Eugène (1858-1931)
Caprice d'après l'Etude en forme de Valse, op.52 no.6 by Saint-Saens
Karol Danis (violin), Iveta Sabová (piano)
2:20 AM
Kreisler, Fritz (1875-1962)
Recitativo and scherzo-caprice for violin solo (Op.6)
Fanny Clamagirand violin
2:25 AM
Janequin, Clément (c. 1485-1558)
Crecquillon, Thomas (c.1505/15-1557)
Sermisy, Claudin de (c.1490-1562)
Four Renaissance Chansons
Vancouver Chamber Choir
2:37 AM
Manchicourt, Pierre de (1510-1564)
Nunc enim si centum lingue sint
Corona Coloniensis, Peter Seymour (conductor)
2:45 AM
Gombert, Nicolas (c.1495-c.1560)
Credo a 8
BBC Singers, Bo Holten (conductor)
3:01 AM
Wagner, Richard (1813-1883)
Prologue: Dawn music & Siegfried's Rhine journey from Götterdämmerung
Royal Concertgebouw Orchestra, Riccardo Chailly (conductor)
3:14 AM
Britten, Benjamin (1913-1976)
Early one morning
Elizabeth Watts (soprano), Paul Turner (piano)
3:18 AM
Haydn, Joseph (1732-1809)
Symphony No.6 in D major (H.1.6) 'Le Matin'
Swedish Radio Symphony Orchestra, Esa-Pekka Salonen (conductor)
3:39 AM
Tournier, Marcel (1879-1951)
Au Matin - étude de concert
Mojca Zlobko (harp)
3:43 AM
Finzi, Gerald (1901-1956)
White-flowering days (Op.37)
BBC Singers, Bo Holten (conductor)
3:47 AM
Debussy, Claude (1862-1918)
Prélude à l'après-midi d'un faune
Norwegian Radio Orchestra, Matthew Rowe (conductor)
3:59 AM
Kodály, Zoltán (1882-1967)
Summer evening
Hungarian Radio Orchestra, György Lehel (conductor)
4:17 AM
Strauss, Richard (1864-1949)
Traum durch die Dämmerung (Op.29 No.1)
Katalin Szökefalvy-Nagy (soprano); Magda Freymann (piano)
4:20 AM
Wilbye, John (1574-1638)
Draw on sweet night
BBC Singers, Bo Holten (director)
4:26 AM
Allegri, Lorenzo (1567-1648)
Primo Ballo della notte d'amore & Sinfonica (Spirito del ciel)
Suzie Le Blanc (soprano), Barbara Borden (soprano), Dorothee Mields (soprano), Christian Hilz (baritone), Tragicomedia , Stephen Stubbs (director)
4:35 AM
Dowland, John (1563-1626)
Mr. Dowland's midnight
Manuel Calderon (guitar)
4:39 AM
Merikanto, Oscar (1868-1924)
Summer night waltz (Op.1) & Summer night idyll (Op.16 No.2)
Eero Heinonen (piano)
4:45 AM
Lassus, Orlande de (1532-1594)
Toutes les nuits
The King's Singers
4:48 AM
Offenbach, Jacques (1819-1880) arr. Max Woltag
Belle Nuit (Barcarolle from Contes d'Hoffmann) arr. for violin, cello & piano
Moshe Hammer (violin), Tsuyoshi Tsutsumi (cello), William Tritt (piano)
4:51 AM
Rimsky-Korsakov, Nikolai (1844-1908)
May Night: overture
Calgary Philharmonic Orchestra, Mario Bernardi (conductor)
5:01 AM
Vivaldi, Antonio (1678-1741)
Concerto for violin and orchestra (RV.234) in D major 'Inquietudine'
Giuliano Carmignola (violin), Sonatori de la Gioiosa Marca
5:07 AM
Beethoven, Ludwig van (1770 -1827)
Adagio in E flat (WoO.43 No.2) for mandolin and piano
Lajos Mayer (mandolin), Imre Rohmann (piano)
5:13 AM
Brahms, Johannes (1833-1897)
Schicksalslied for chorus and orchestra (Op.54)
Oslo Philharmonic Choir and Orchestra, Rafael Frühbeck de Burgos (conductor)
5:29 AM
Mozart, Wolfgang Amadeus (1756-1791)
Duos from 'Don Giovanni' arranged Danzi for 2 cellos
Duo Fouquet
5:34 AM
Wegelius, Martin (1846-1906)
Rondo quasi Fantasia for Piano & Orchestra
Margit Rahkonen (piano), Finnish Radio Symphony Orchestra, Petri Sakari (conductor)
5:45 AM
Schubert, Franz (1797-1828)
Fischerweise (D.881)
Edith Wiens (soprano), Rudolf Jansen (piano)
5:49 AM
Praetorius, Michael (1571-1621)
Renaissance concerto for brass ensemble
Hungarian Brass Ensemble
5:54 AM
Dvorák, Antonín (1841-1904)
Slavonic Dance (Op.72 No.2)
James Anagnoson and Leslie Kinton (piano)
5:59 AM
Schumann, Robert (1810-1856)
Manfred - Overture to the Incidental Music (Op.115)
BBC Symphony Orchestra, Jirí Belohlávek (conductor)
6:13 AM
Roussel, Albert (1869-1937)
Piano Trio in E flat major, Op.2 (1902)
Tale Olsson (violin), Johanna Sjunnesson (cello), Mats Jansson (piano)
6:42 AM
Haydn, Joseph (1732-1809)
Trumpet Concerto in E flat major (Hob.VIIe:1)
Ole Edvard Antonsen (trumpet), Norwegian Radio Orchestra, Nicolae Moldoveanu (conductor).
Last on