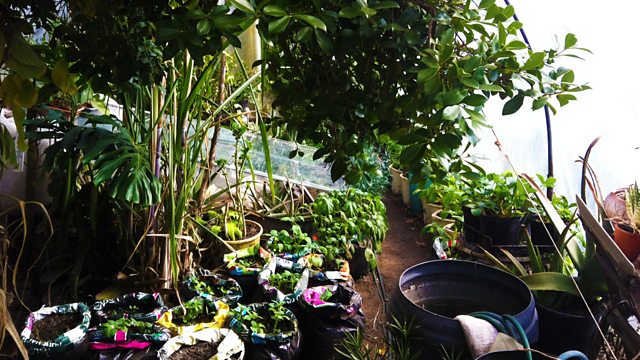 North Buckinghamshire
Listen in pop-out player
This week the team visits Stony Stratford in North Buckinghamshire with Peter Gibbs in the chair. On the panel are Pippa Greenwood, Bunny Guinness and Chris Beardshaw.
Also in the programme this week, Anne Swithinbank visits Bob Flowerdew's garden to talk us through what to do this April, after the cold weather in March made it a write-off for gardeners. And Christine Walkden brings us some passion for her 'plant of the moment': Arum maculatum.
Produced by Victoria Shepherd.
A Somethin' Else production for BBC Radio 4.
Questions answered in the programme:
Q: Do you earth up your potatoes and does this raise production?
A: Yes. You'll get a higher crop yield and be protecting the emerging shoot from cold weather. You'll also be protecting the ridge and reduce the likelihood of developing poisonous green tubers. It also makes extracting the potatoes a lot easier.
Q: How successful is growing Clematis in pots?
A: They've recently developed a lot of strains of Clematis that are specifically for pots. Like all plants, Clematis is more difficult to grow in a pot. Make sure it's a very good pot. Be prepared to maintain it and renew the compost, and give it lots of moisture. A big advantage is that you can put self-adhesive copper tape around the top to deter slugs and snails. Line the insides of the container with bubble wrap polythene to insulate it from extreme weather.
Q: I've tried to grow ginger for three years - in all seasons, indoors and outdoors and in various soil types - but have failed to produce a mature plant. All I get is a green stem that dies off. What am I doing wrong?
A: It needs plenty of free draining soil, sunshine and humidity. It's a glasshouse plant - you need absolute control of conditions (consistently about 24 degrees). Try planting a rhizome just below the surface of soil.
Q: We're doing a facelift in our northwest facing front garden and want some advice on trees. We're interested in something that won't grow much more than 15ft and isn't too widely spread. We already have an Acer, weeping pair and cherry tree. What can you recommend?
A: The Persian ironwood (Parrotia Persica). It has an eccentric look to it with marked bark, red flowers throughout winter, and an orangey-yellowy autumn colour. The weeping form is more compact but you could also prune, coppice or pollard it. Hamamelis would give your garden some winter colour. Prunus Kursa has rich pink flowers. A Prunus Cheals Weeping, Prunus Amanogawa and Acacia Dealbata all flower early in the season and so would complement the Acer well.
Q: Last year I filled some raised beds with compost from my local recycling depot. Some vegetables did well but my beetroot and celeriac were all tops and no bottoms. What should I do next year to get a better crop?
A: Recycled compost is very high in potash, which makes it fruit and flower. But it's also high in nitrogen, which tends to give more leaf to root crops. It's probably weather and light related as well. It might be worth adding a bit of phosphate to counteract this, and asking your local council who may know more about the recycled compost. Try and incorporate a loam-based compost (maybe from a turf supplier) with the composted garden waste, which on its own is low in mineral nutrients.
Q: I have a small garden - could you suggest any vegetables I can grow in containers, and what variety of vegetables?
A: In good-sized pots with good quality compost you can grow just about anything - beans, peas, salad crops, tomatoes, beetroot. A charity called Groundwork suggests you fill up bulk bags (which you can get from a builders merchant) with your favourite garden soil and compost and build a timber frame or bendy willow panels around it to make it look like a raised bed. You can get great results from this. Cut-and-come lettuces will take you all through the year - as will herbs like basil, parsley, chervil, and coriander if you make cloches for them.
Q: Nandina Domestica - do you love it or hate it?
A: This is a bushy, evergreen fringe plant, otherwise known as the heavenly or sacred bamboo. It's very resilient and tolerates most soil types. It looks fantastic - but only if you plant it in the right place. It likes cold temperatures to induce fiery autumn colour and bright red berries. Don't try squeezing it into a hanging basket or container. Panellists verdict: Chris likes it if it's in the right setting, Pippa doesn't like it and Bunny is indifferent!
Last on
Seven things Prince Charles says you should do in the garden