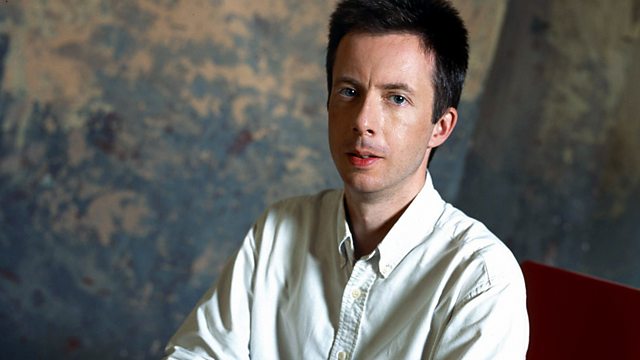 08/04/2013
John Shea presents a programme of music by the Portuguese composer Estevao de Brito recorded at the 2011 Laus Polyphoniae Festival, Antwerp.
12:31 AM
de Brito, Estevao (1570-1641)
In Exsequiis; Memento mei; Ad Matutinum; Ad Missam: Missa pro defunctis; Absolutio post Missam
Daedalus Ensemble, La Colombina, Josep Cabré (director)
1:23 AM
Mendelssohn, Felix (1809-1847)
Sonata for piano in E major (Op.6)
Sveinung Bjelland (piano)
1:48 AM
Dvorák, Antonín (1841-1904)
Symphony No.6 in D major (Op.60)
National Polish Radio Symphony Orchestra, Kees Bakels (conductor)
2:31 AM
Saint-Saëns, Camille (1835-1921)
Trio No.1 for piano, violin and cello in F (Op.18)
Ulf Forsberg (violin), Mats Rondin (cello), Stefan Lindgren (piano)
3:01 AM
Bach, Carl Philipp Emanuel (1714-1788)
Symphony in E flat (Wq.179)
Akademie für Alte Musik Berlin
3:15 AM
Ravel, Maurice (1875-1937)
Piano Concerto in G major
Pascal Rogé (piano), New Zealand Symphony Orchestra, Alexander Lazarev (conductor)
3:38 AM
Nicolai, Otto (1810-1849)
Overture to 'The Merry Wives of Windsor'
Slovenian Radio and Television Symphony Orchestra, Marko Munih (conductor)
3:47 AM
Wieniawski, Henryk (1835-1880)
Polonaise in A major for violin & piano (Op.21)
Piotr Plawner (violin), Andrzej Guz (piano)
3:57 AM
Monteverdi, Claudio (1567-1643)
Io son pur vezzosetta pastorella; Augellin che la voce al canto spieghi (from libro VII de madrigali - Venice 1619)
Concerto Italiano; Rinaldo Alessandrini (harpsichord & director)
4:04 AM
Castello, Dario (1590-1644)
Sonate Decima a 3
Concerto Italiano; Rinaldo Alessandrini (harpsichord & director)
4:10 AM
Gounod, Charles (1818-1893)
Waltz from 'Faust'
Danish Radio Concert Orchestra, Borge Wagner (conductor)
4:16 AM
Nordin, Bosse
Schottische
The Young Danish String Quartet
4:19 AM
Grieg, Edvard (1843-1907)
Triumphal March from 'Sigurd Jorsalfar'
Danish Radio Concert Orchestra, Roman Zeilinger (conductor)
4:31 AM
Stenhammar, Wilhelm (1871-1927)
Florez and Blanzeflor (Op.3)
Peter Mattei (baritone), Swedish Radio Symphony Orchestra, Manfred Honeck (conductor)
4:39 AM
Bach, Johann Sebastian (1685-1750)
Christ lag in Todesbanden (BWV.695)
Kamiel d'Hooghe (1829 Lambert van Peteghem organ of Saint Peter's Church, Bertem)
4:44 AM
Britten, Benjamin (1913-1976)
Choral Dances from Gloriana - Coronation opera for Elizabeth II (Op.53)
The King's Singers
4:50 AM
Frumerie, Gunnar de (1908-1987)
Pastoral Suite (Op.13b)
Kathleen Rudolph (flute), CBC Vancouver Orchestra, Mario Bernardi (conductor)
5:04 AM
Vivaldi, Antonio (1678-1741)
Nulla in mundo pax sincera for soprano and orchestra (RV.630)
Emma Kirkby (soprano), Academy of Ancient Music, Andrew Manze (director)
5:11 AM
Vaughan Williams, Ralph (1872-1958)
Fantasia on a theme of Thomas Tallis
The Royal Academy Soloists, Clio Gould (director)
5:24 AM
Reger, Max (1873-1916)
Humoresque in G minor (Op.20 No.5)
Max Reger (piano)
5:28 AM
Geminiani, Francesco (1687-1762)
Concerto Grosso in G minor
Academy of Ancient Music, Andrew Manze (director/violin)
5:36 AM
Rachmaninov, Sergey (1873-1943)
Symphonic Dance No.1 (Op.45)
Bergen Philharmonic Orchestra, Andrew Litton (conductor)
5:48 AM
Beethoven, Ludwig van (1770-1827)
Sonata for piano no. 30 (Op. 109) in E major
Cédric Tiberghien (piano)
6:07 AM
Strauss, Richard (1864-1949)
Rosenkavalier - Grand Suite
Orchestre du Conservatoire de Musique du Quebec, Franz-Paul Decker (conductor).
Last on