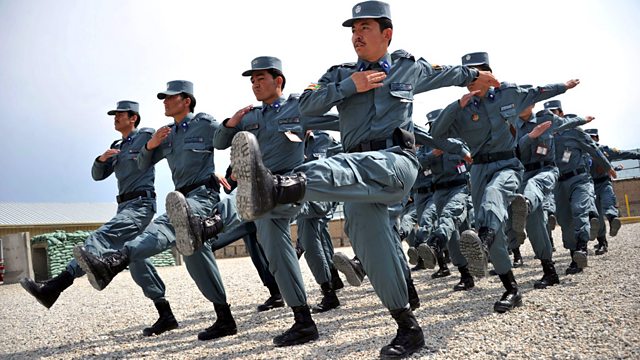 10/04/2013
Morning news and current affairs with Justin Webb and John Humphrys, including:
0810
There is little the UK can do to influence the future of Afghanistan once UK forces pull out next year, and there is the real possibility it will descend into full-blown civil war within a few years, a report from the Defence Select Committee has warned. Lucy Morgan Edward, author The Afghan Solution, who submitted evidence to the Committee for this report, and Defence Secretary Philip Hammond, discuss the security situation in the country.
0821
The Girl Guide Association has signed up to the No More Page Three campaign. Jenni DcDermott, chair of the Girl Guiding delegation of the British Youth Council, and Leilani Dowding, former page three girl and fashion designer, discuss the publication of photographs on page three of tabloid newspaper.
0831
One in three Liberian girls now gets pregnant before the age of 18. Today presenter James Naughtie visited an up-country health centre, in a poor rural area, to learn about a remarkable effort to bring the problem of sexual assault on children into the open.
Last on
A rundown of stories from Wednesday 10 April including programme highlights and comment.
Life Inside 'Islamic State': Diaries
Wednesday 10 April
A new report suggests Afghanistan could descend into a civil war within a few years of the withdrawal of British and American forces. The chief executive of HBOS has apologised for the way he ran his bank and offered to give up his knighthood. And how long should it take to complete a crossword?
0900

Thank you for helping #r4today to trend on Twitter this morning. We appreciate all your comments and feedback. Our editors today were Andrew Bryson and Sareen Bains. Next on Radio 4: James Naughtie presents The Man Who Made Scotland. Good morning.



0855

Parliament meets today to pay tribute to Margaret Thatcher but not every MP is planning to atttend. We speak to Ronnie Campbell, MP for Blyth Valley, who won't be there, and Connor Burns - the Conservative MP for Bournemouth West.



0851

Colin Dexter, creator of Inspector Morse, and John Henderson, crossword setter for the Guardian, discuss how long it should take to complete a crossword.

0841

A protest at a trade fair in Hanover which was attended by the Russian President Vladimir Putin and the German Chancellor Angela Merkel saw pictures of the demonstration by a group called FEMEN splashed across newspapers and television screens around the world. The reason for such massive coverage was the fact that the women were topless. John Humphrys speaks to Alexandra Shevchenko is the leader of the FEMEN branch in Germany.


See more live updates