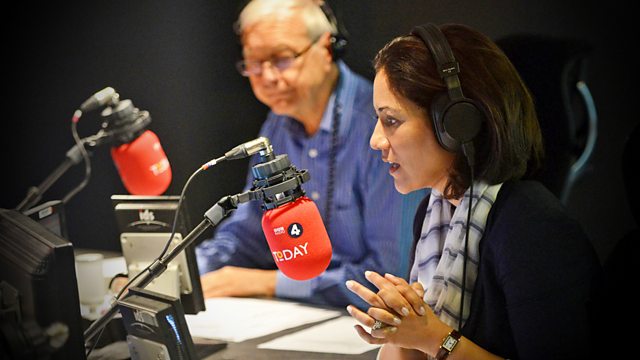 08/04/2013
Morning news and current affairs with Evan Davis and Justin Webb. Including Sports Desk; Weather; Thought for the Day.
Last on
A rundown of stories from Monday 8 April including programme highlights and comment.
Life Inside 'Islamic State': Diaries
Monday 8 April
Critics fear support for disabled people will be reduced as a new benefits system begins in the north of England. Local councils are to begin charging a late night levy on licensed businesses open at night. And the latest on talks with Iran about its desire to enrich uranium.
0900

Our editors this morning were Andrew Bryson and Terry O'Neill. Thanks for all your comments and feedback this morning, we're back tomorrow from 0600. Coming up next on Radio 4, Start The Week with Stephanie Flanders. Good morning.

0855

The Huguenots came to this country in the 16th century, they were protestants and they had been persecuted in France. There is a festival starting today to mark their contribution to the east London area of Spitalfields. Tessa Murdoch, head of the metal works collection at the Victoria and Albert Museum and a consultant to the festival, and Stan Rondeau, a 12th generation Huguenot, explain the impact that the family had on the East London.




0850

Disability Living Allowance will be replaced with the Personal Independence Payment for some new claimants. Stephen Duckworth, the founder and chief executive of Disability Matters Limited, outlines his view in the changes that are coming in today.




0847

The South Korean government says there are signs that North Korea may be preparing a fourth nuclear test. This weekend there were unusually blunt comments from China's President Xi Jinping warning that no one should be allowed to throw the region or the world into chaos for its selfish gains. We speak to Martin Patience, our Beijing Correspondent.



See more live updates