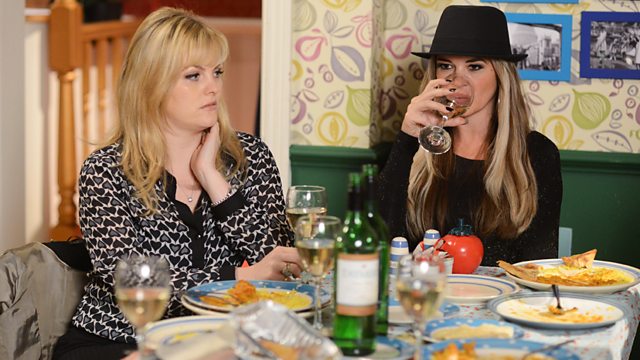 02/04/2013
Taking charge, Lola sends Phil and Billy for paracetemol and a thermometer and rings NHS Direct. Lexi won't drink, throws up again and has a rash on her stomach. Billy tells Lola Ben had meningitis as a baby. Panicking, Phil wants to drive to hospital. Lola insists they wait for the ambulance. At the hospital, medics tend to Lexi. Lola soothes her when they have to insert a cannula. Billy paces outside with Abi and Max. Lexi's diagnosed with gastroenteritis – she'll be fine. Lola sobs with relief. Phil reveals their meeting is to discuss returning Lexi; he agrees with Trish that Lola's ready to have her back.
Ian's keen to involve the media to save Dot's house. She refuses. Ian and Sharon help Fatboy sort through Dot's papers. Dot agrees to let Ian get her a solicitor. Once they've gone, Dot looks around her home, fearful of what's to come.
Jack's delighted when Dennis calls him Dad. Kat's had a letter about Ronnie who'll be released on temporary licence in 8 weeks. Jack can't believe he's happy again with Sharon. Kat tells Jack she has the CSA on to Michael for support for Tommy. Later, Kat threatens Michael with a solicitor. Michael suggests dinner to discuss things. Jack retrieves the letter then replaces it in the drawer, unopened.
Ava and Dexter check into the B&B. Abi and Dexter plot to bring the family together for a take away, to Ava's irritation. Kirsty gate-crashes. Dexter plays Ava's favourite song, Kim dances and everyone joins in. Kirsty hisses at Tanya to back off - the B&B is her home. Tanya's grateful when Ava pulls her up to dance.
Liam wants to live with Ricky once he's discharged from hospital so his family aren't targeted. Bianca shows him an emergency police mobile and convinces Liam to come home.
Last on
Credits
| Role | Contributor |
| --- | --- |
| Dot Branning | June Brown |
| Ian Beale | Adam Woodyatt |
| Sharon Rickman | Letitia Dean |
| Arthur 'Fatboy' Chubb | Ricky Norwood |
| Lola Pearce | Danielle Harold |
| Phil Mitchell | Steve McFadden |
| Billy Mitchell | Perry Fenwick |
| Tanya Cross | Jo Joyner |
| Ava Hartman | Clare Perkins |
| Dexter Hartman | Khali Best |
| Abi Branning | Lorna Fitzgerald |
| Cora Cross | Ann Mitchell |
| Kirsty Branning | Kierston Wareing |
| Max Branning | Jake Wood |
| Lauren Branning | Jacqueline Jossa |
| Kim Fox | Tameka Empson |
| Denise Fox | Diane Parish |
| Jack Branning | Scott Maslen |
| Dennis Rickman | Harry Hickles |
| Kat Moon | Jessie Wallace |
| Michael Moon | Steve John Shepherd |
| Bianca Butcher | Patsy Palmer |
| Liam Butcher | James Forde |
| Carol Jackson | Lindsey Coulson |
| Alfie Moon | Shane Richie |
| Jean Slater | Gillian Wright |
| Paramedic | Melissa Dean |
| Doctor | Joanna Bending |
| Executive Producer | Lorraine Newman |
| Director | Lance Kneeshaw |
| Writer | Sally Abbott |