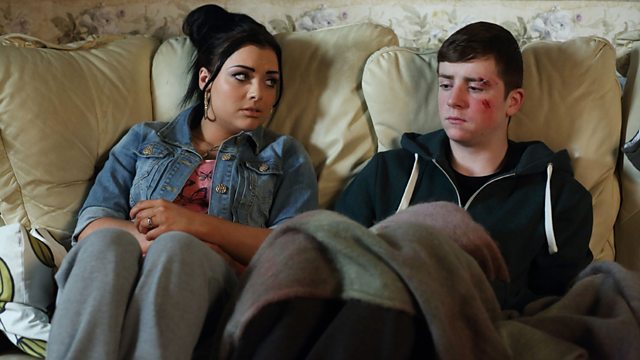 05/04/2013
Kirsty demands Max place a deposit on No 47A today and buys curtains and bedding, crowing to Tanya they'll soon be neighbours. At the car lot, Tanya confronts Max. She's defensive, insisting she doesn't care what Max does, claiming she's pleased he's making such a permanent step. Kirsty's delighted when the 'To Let' sign is taken from No 47A, assuming Max put the deposit down - it soon becomes apparent Billy secured the flat for Ava and Max lied. In tears, Kirsty thinks Max was too busy with Tanya. Max defends that he and Tanya have a bond that Kirsty can't understand as Tanya's the mother of his children. Kirsty tells Max she's pregnant.
Liam comes home from hospital, quiet and withdrawn. Whitney consoles him, recalling how she felt when she returned after her ordeal with Rob. Later, Bianca panics when she can't find Liam. She discovers him at the B&B giving Ava his bedding.
Ava views No 47A and tells Billy she's going to put a deposit down. Billy collects household items for their new flat. Ava's despondent when she's told someone's already put a deposit down. She's delighted to discover Billy did it for her but on realising the money was from Tanya, pays her back and insists Tanya can't buy love.
After talking to Kim, Kat worries that Michael's got the wrong idea about their dinner but resolves to play the game as she needs his money. She arrives without Tommy, dolled up, then insists she won't sleep with Michael. Michael suggests having dinner, just as friends. As they eat, they discuss their mutual desire to be good parents.
Jack's jumpy and stops Sharon answering the phone but pushes on with wedding plans. Jack asks Max to be best man and witness, then discovers Sharon's asked Tanya.
Last on
Credits
| Role | Contributor |
| --- | --- |
| Kirsty Branning | Kierston Wareing |
| Max Branning | Jake Wood |
| Tanya Cross | Jo Joyner |
| Ava Hartman | Clare Perkins |
| Liam Butcher | James Forde |
| Bianca Butcher | Patsy Palmer |
| Dexter Hartman | Khali Best |
| Billy Mitchell | Perry Fenwick |
| Carol Jackson | Lindsey Coulson |
| Sharon Rickman | Letitia Dean |
| Jack Branning | Scott Maslen |
| Kat Moon | Jessie Wallace |
| Michael Moon | Steve John Shepherd |
| Kim Fox | Tameka Empson |
| Whitney Dean | Shona McGarty |
| Tiffany Butcher | Maisie Smith |
| Morgan Butcher | Devon Higgs |
| Executive Producer | Lorraine Newman |
| Director | Lance Kneeshaw |
| Writer | Pete Lawson |