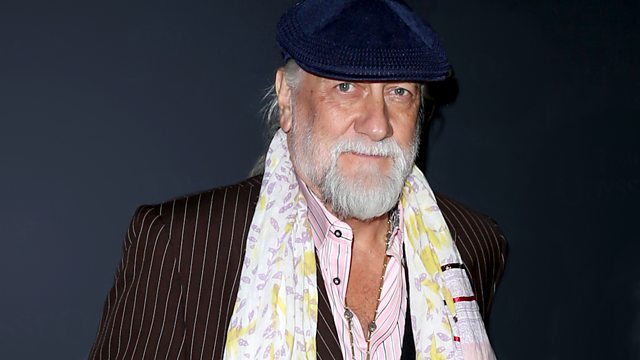 Imogen Stubbs; Mick Fleetwood's Inheritance Tracks
Listen in pop-out player
Richard Coles and Sian Williams with actress Imogen Stubbs, and poet Mr Gee. There's a Thing About Me feature about Mary Horsley's Rolling Stones LP, Maire Doyle from York tells the story of finding a bundle of her parents' love letters, Clare Scott explains how she moved house by barge, Frank Griffiths recalls stumbling onto a filmset with Richard Burton and Sophia Loren, Saturday live listeners say thank you for random acts of kindness and Fleetwood Mac's Mick Fleetwood shares his Inheritance Tracks.
Producer: Dixi Stewart.
Last on
STUDIO GUEST :: IMOGEN STUBBS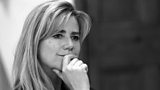 Fan of the show Imogen Stubbs talks to Richard and Sian about barges, travel and seeing the whites of the audiences' eyes.
Imogen is currently appearing in Third Finger, Left Hand at the Trafalgar Studios in London.
INHERITANCE TRACKS :: MICK FLEETWOOD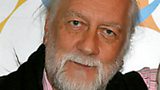 Mick Fleetwood chooses Clap Hands! Here Comes Charlie by Charlie Kunz as the track he has inherited and Imagine by John Lennon as the song he'd like to pass on to future generations.
Here's Mick talking recently to Johnnie Walker on BBC Radio 2 about the re-release of Fleetwood Mac's 1977 album Rumours.
THE THING ABOUT ME :: THE ROLLING STONES ALBUM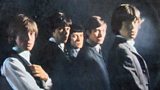 Mary Horsley tells the story about the moment she went from zero to hero at school when she swapped the classical music album she won in a raffle for a copy of The Rolling Stones first LP.
FOUND LOVE LETTERS :: MAIRE DOYLE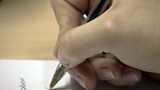 Maire Doyle reads excerpts from the bundle of love letters between her mother and father which she found in a drawer while clearing out their house.
For more love letters on BBC Radio 4, listen to Emily Blachere's love letter to her boyfriend Remi Ochlik a year after being killed during shelling by Syria's government forces.
HUMAN POWERED CIRCUMNAVIGATION :: JASON LEWIS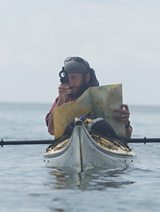 Using nothing but man power, Jason Lewis spent 13 years, 2 months, 23 days and 11 hours travelling west around the globe until he arrived back at the point he first started.
See video footage of Jason's adventures here on the BBC News website.
His book, The Expedition: Dark Waters is out now published by Billy Fish Books.   
I MOVED HOUSE BY BARGE :: CLARE SCOTT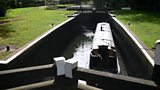 Clare Scott was always a fan of the canal near her house, so when it came to moving her belongings across the country, she embarked on a mission to do so using water power.
I WAS THERE :: BURTON AND LOREN FILM SET
Frank Griffiths walked onto the film set of The Voyage starring Richard Burton and Sophia Loren while staying in the Hotel Danieli in Venice in 1973.
POET :: MR GEE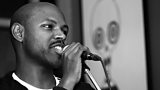 Mr Gee will be performing two of his poems during the programme.
You can hear his Radio 4 documentary on the iPlayer.  In Rhyme and Reason poet and DJ Mr Gee talks to songwriters about poetry and how it influences their work.
POEM :: GO TELL IT ON THE MOUNTAIN
I saw the falling feathers of an angel's wing,
And I wanted them tattooed upon my spine,
Call me a scavenger or demonic thing,
Who cares for names if I can fly?
Who cares for names if I can rise?
Beyond the frame of gazing eyes,
Beyond the foot of this historic mountain,
Which casts a haze upon my life,
You know it's impacting how I'm living,
You know it's exact & unforgiving,
It traps my soul within a box,
And holds a lock to my upliftment,
I just wanna float away so high,
I just wanna fade the colour lines,
Fade the minimum wage & slavery,
Fade the canons guns & knives,
That I can escape the prison time,
Escape the trips to courtroom trials,
Rewind the school exclusions,
When Daddy leaves & Mummy cries,
Am I wrong to want to escape this plight?
These angel wings give me insight,
To levitate my mental state,
& leave these shackles far behind,
But fallen wings leave scattered feathers,
And I tried my best to just collect them,
But they were spread oh-so far apart,
To unite them all would take forever,
So I gathered just what I could,
Looked to the skies from where I stood,
That I could leave behind this mountain,
Behind this city, behind this 'hood,
Behind these streets, Behind these roads,
Behind a past that leaves me cold,
I'll fly so high that they'll never find me,
And I'll never go back to the days of old,
But as I flap & flap & flap,
There are no wings upon my back,
There is no magical elevation,
And my puppet strings are still attached,
I raise my eyes up to the sky,
Way beyond this mountain high,
I look to the heavens to just ask why,
This world won't get off my back & let me fly,
I'm stuck at the bottom with my regrets,
With the single feather that I now possess,
One day I'll reach that mountain-top,
But I'll have to do it….
© Mr Gee
POEM :: LARKIN REVISITED
It's kinda hard to imagine your parents.
Gambling on such a game of chance,
Drawing from deep within their communal chests,
To invest in letters of pure Romance,

Despite Larkin's postulations,
On what could possibly be the verse,
I still can't picture my Mum & Dad in a situation,
Like facing teenage 1st Date nerves,

Imagine him frantically polishing up his shoes,
Or fumbling to button up his shirt,
Or her spraying too much perfume,
And can't find a skirt to match her purse,

I guess it's kinda hard to imagine your parents,
Gambling on such a game of chance,
Where you were just a twinkle in their eyes,
Before a kiss, before a dance.
© Mr Gee
BLOG :: SIAN'S RETRO GETAWAY
We've just spent the Easter holidays at an English hotel which is so firmly rooted in the 1950s, it has someone who plays a live xylophone tune, over the intercom, at 7.30pm, calling you for dinner. Young children are banned from the restaurant; for them, it's tea at five, a quick play and then bedtime. The baby sitting service is a teenage girl, with her homework, sitting outside the room, listening. It is impossible to get a mobile phone signal at the hotel and the only entertainment provided comes from the radio in your room. Tuned to the Home Service, probably.

Our teenage brood have warmed to the place, despite spending frustrating and pointless minutes, tapping their phone or tablet to try to communicate with the outside world. The pudding table, groaning with pavlova and creme brûlée, tore them away and won them over.

Generations of families go there. There were grannies and great granddads, playing board games with their children and their children's children. One family had been going, every year, for half a century.

Now we're back home and of course, modern life has crashed in but they've hit on a fantastic formula at that hotel. I remember holidays with my parents, where they insisted that my brothers and I had a siesta after lunch, of upwards of two hours, so they could spend time together. We played, unquestioningly, with puzzle books. The other secret, according to my Mum, was spent time apart, doing your own thing. Hers was at coffee mornings, his was tinkering with cars.

On Saturday Live this week, we hear from someone who reveals the letters between his own parents, charting their relationship. Hopefully, with more tips on how to get it right.

Also on the programme, the actress Imogen Stubbs, who's in a play called Third Finger, Left Hand. Her childhood was unusual - she grew up on a barge, and we're also speaking to someone who once moved house on one.

Canals of a different sort in Venice, where a listener tells us how they gate-crashed a film, starring Richard Burton and Sophia Loren, we have poems, more of your thanks and the Inheritance Tracks of Mick Fleetwood.

No xylophone but they're playing our tune. I hope you can join Richard and I for Saturday Live, at 9.
6 April 2013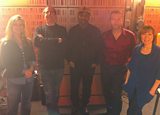 Imogen Stubbs, Richard, Mister Gee, Jason Lewis, Sian.
Credits
| Role | Contributor |
| --- | --- |
| Presenter | Richard Coles |
| Presenter | Sian Williams |
| Interviewed Guest | Imogen Stubbs |
| Producer | Dixi Stewart |
| Producer | Sharon Banoff |