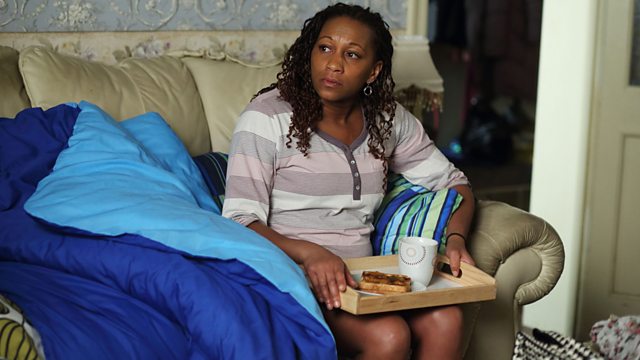 01/04/2013
Trish Barnes calls a meeting. Phil neglects to tell Lola and Billy it's about getting Lexi back. Billy's worried. Phil and Billy argue over an old baby walker for Lexi which Phil's disgusted by. Billy retorts having money didn't do Ben any good. Lola insists Billy apologise – they need Phil on side. Billy and Phil reconcile over erecting an expensive flat pack baby walker. Lexi throws up on Billy. Lola's relieved they've called a truce. Later, Lola rushes downstairs with Lexi in her arms, horrified that Lexi's boiling hot.
Dot's hidden away all weekend and skipped church, feigning illness. Fatboy covers for her to a concerned Reverend Stevens but later, in the chip shop, confesses Dot's plight about her house. Reverend Stevens confronts Dot, she eventually confides in him. Reverend Stevens comforts her, pleading her to get help. Dot's resistant, then asks a relieved Fatboy if Ian knows about the council.
Ava's staying on the Butchers' sofa, while Dexter's at Tanya's. He's upset by Ava's suggestion of moving outside Walford. Ava rejects Tanya's offer to move in. Cora pleads with Ava to stay and accept help. Ava announces they're moving to the B&B.
In hospital, Bianca's at Liam's bedside. DS Kain reports Little Chris has been arrested and the gang taken in for questioning. Bianca wants Ray to teach Liam self-defence but flies off the handle when he's hesitant. She tries to quit the stall to be there for Liam, then cries when Kat reminds her she needs to feed her family. Later, she's appalled that the gang, except Chris, have been released on bail due to lack of evidence.
Sharon gets her wedding dress but it's a meringue. Tanya wonders why Phil and Sharon never married. Jack nearly bins a startling letter he receives but instead stows it in a drawer, unopened.
Last on
Credits
| Role | Contributor |
| --- | --- |
| Lola Pearce | Danielle Harold |
| Billy Mitchell | Perry Fenwick |
| Phil Mitchell | Steve McFadden |
| Bianca Butcher | Patsy Palmer |
| Liam Butcher | James Forde |
| Carol Jackson | Lindsey Coulson |
| Whitney Dean | Shona McGarty |
| Morgan Butcher | Devon Higgs |
| Tiffany Butcher | Maisie Smith |
| Cora Cross | Ann Mitchell |
| Ava Hartman | Clare Perkins |
| Dexter Hartman | Khali Best |
| Tanya Cross | Jo Joyner |
| Abi Branning | Lorna Fitzgerald |
| Lauren Branning | Jacqueline Jossa |
| Dot Branning | June Brown |
| Arthur 'Fatboy' Chubb | Ricky Norwood |
| Poppy Meadow | Rachel Bright |
| Sharon Rickman | Letitia Dean |
| Jack Branning | Scott Maslen |
| Kat Moon | Jessie Wallace |
| Ray Dixon | Chucky Venn |
| Reverend Stevens | Michael Keating |
| Trish Barnes | Tessa Churchard |
| DS Bain | Joe Tucker |
| Executive Producer | Lorraine Newman |
| Director | Lance Kneeshaw |
| Writer | Pete Lawson |
Shocked Sharon confronts "K"