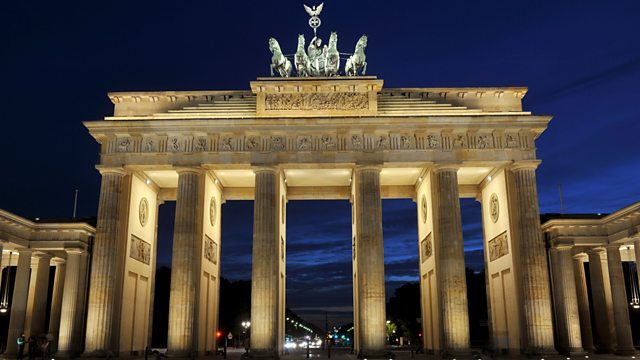 Bowie and Beyond: A Music Fan's Guide to Berlin
Here writer and broadcaster Danny Robins looks at what has made the German capital into a rock n roll mecca, exploring the cultural and social forces that have shaped the city's rich musical history from Weimar times, via the Bowie years, to the techno revolution of the 90s and the still vibrant present day music scene.
Danny follows in Bowie and Iggy's footsteps, on a guided tour with former recording engineer Thilo Schmied, who takes him around some of the pair's old haunts and shows him round the legendary Hansa studios where they recorded, in the shadow of the wall and within shooting range of the East German border guards. Bowie and Iggy inspired a creative influx of bands and singers in subsequent decades. Danny meets producer Gareth Jones, who worked with Depeche Mode and Nick Cave at Hansa, and Mute Records founder Daniel Miller, still a resident of Berlin.
Danny meets more recent musical immigrants too, like Eddie Argos from indie band Art Brut, now resident in hipster suburb Neukölln, and the queen of sextronic rock n roll, Peaches, who takes Danny on a tour along the remains of the Berlin Wall and gives him her suggested Berlin playlist.
Danny also meets German artists, including Die Toten Hosen, indie band Tocotronic and rising star of German Hip Hop, Prinz Pi. Interestingly, German is the second biggest market for hip hop outside the states, but does rap really sound good in German? And DJ Paul Van Dyk tells Danny about his days growing up in East Germany, smuggling records in over the border. Through these meetings with musical residents of Berlin past and present, Danny builds up a picture of not only the influences that have shaped the city's unique soundscape but also the reasons it has been and continues to be such a rich and fertile place for musicians to base themselves. Every band needs a Berlin period - but is there such a thing as a Sound of Berlin?