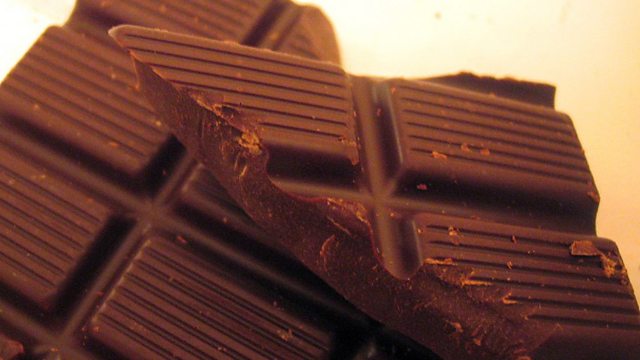 02/04/2013
Adam Walton finds out more about a typical Easter indulgence, Chocolate, examining the chemistry, the psychology, the nutrition and how it could have affected you.
Last on
Chocolate
In Britain we each eat an average of 11 kilos of chocolate a year – that's three bars a week and probably a lot of foil-wrapped eggs over Easter.  So the Science Café decided to take a closer look at our naughty little addiction -  if indeed it is an addiction.
 
Well, it's not according to David Benton, Professor of Psychology at the University of Swansea. He has studied the connection between mood and food and explains to Adam Walton just why we want to eat chocolate. It's clear it has an effect on our brains, but it's not the damaging craving an alcoholic or drug addict might feel.
 
Organic chemist Dr Martine Lahmann, who teaches at Bangor University, explains helpfully why we won't enjoy our chocolate quite as much if we are outside in the cold or keep the bar in the fridge. And popular food writer and nutritionist Ruth Joseph cuts through the hype to get to the truth behind those newspaper headlines promising that chocolate is a superfood that can cure everything from a tickly cough to high blood-pressure.
 
Of course, we needed to learn more about the chocolate-making process too so Adam visits Wales' only bean-to-bar artisan chocolate factory – Baravelli's in Conwy - where, purely in the interest of evidence-based conclusions, he conducts extensive tasting experiments. Happy Easter!
Links
BBC News: 'Does Chocolate Make You Clever?'