Mobile phone technology helps victims of domestic violence

They've  been dubbed 'mobile angels' – a mobile phone containing a single number which allows a victim of domestic abuse to alert the police at one push of a button. So far the police have issued the new TecSOS phones to over two thousand women in the UK. Why are they so much more effective than dialling 999 from any other phone, will they save lives? Jenni asks Chief Constable of Gwent Police Carmel Napier and Polly Neate of

Women's Aid.

South Korean President Park Guen-hye

It's just over 3 months since South Korea's first woman President, Park Guen-hye, took up her job.  But already she is facing escalating tension with North Korea. On Saturday North Korea said it was entering a "state of war" with South Korea and now it has announced it intends to reopen its nuclear reactor. So how will she handle this crisis and how have the people of South Korea been adjusting to a women President? Jenni is joined by Dr John Swenson-Wright, Senior Consultanting Fellow, Chatham House.

Men and the Menopause

Night sweats, mood swings and hot flushes – last month a Woman's Hour discussion examined why some women find it difficult to talk about their experience of the menopause. But if women struggle to put the experience in to words, what about men? How does 'the change' affect them and their relationship with their partners? Jenni is joined by Sue Brayne, psychotherapist and author of 'Sex, Meaning and the Menopause' and Patrick Shervington, trustee of Women's Health Concern.

Woman's Hour Power List Dame Sue Ion

Woman's Hour powerlist Dame Sue Ion has spent her life working in engineering. Now at the top of the nuclear industry she has been actively involved in shaping the UK's energy policy for the future.  Her interest in nuclear power began at school, where together with Dame Nancy Rothwell, also on the Woman's Hour powerlist, she developed a love for science. Sheila McClennon takes Dame Sue Ion down memory lane to visit her old school; Penwortham Girls' High School for the first time in thirty years.

Jenny Pitman

Ahead of this Saturday's Grand National at Aintree Jenni Murray speaks to the first woman to train a winner at the race; Jenny Pitman. Her horse Corbiere won in 1983.
Woman's Hour Power List 2014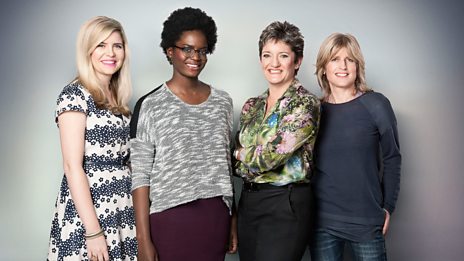 Identifying the top ten game changers operating in the UK today.
Free downloads
Discover cooking techniques and tips to help you perfect your cooking know-how. Jenni Murray and…

Which ten women in the UK have done most to game-change the way power operates in the UK, whether in…

Woman's Hour brings you the big celebrity names and leading women in the news, with subjects ranging…