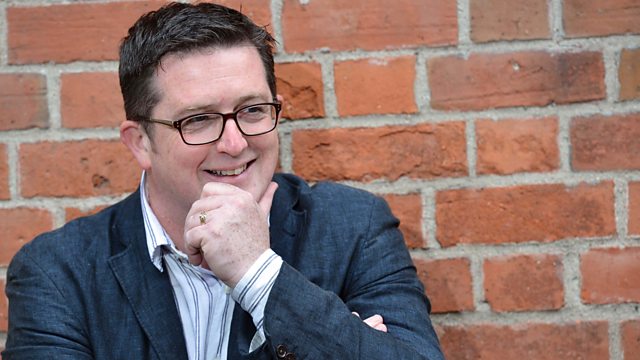 30/03/2013
John Toal looks at health, relationships, hobbies and family along with great music and chat, big interviews, fascinating people and great craic, plus recipes from Paula McIntyre.
Last on
Sicilian Stuffed Roast Chicken & as an Easter treat 'Lime & Coconut Chocolate Truffles'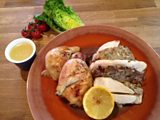 1x 1.5kg chicken
2 small onions, peeled and chopped
2 cloves garlic, crushed
1 teaspoon fennel seeds
2 tablespoons olive oil
50g raisins
25g chopped almonds
Zest and juice 1 lemon
50g breadcrumbs
400g sausage meat
Handful chopped parsley

Cook the onions and garlic in the oil until soft and golden.
Lightly crush the fennel seeds with a rolling pin and add to the onion mixture and cook for 1 minute. Add the chopped almonds. Cook for a minute and then add the raisins and lemon zest and juice.
Cool and mix in to the sausage meat with the parsley and crumbs.

For roasting tray -
1 onion, peeled and quartered
1 stick celery, chopped
1 lemon halved

Stuff the neck end of the chicken and place on the onion and celery in a roasting tray.
Brush with a little oil and season.
Add 100ml water to the tray and cover with foil.
Place in a 180oc Pre heated oven and roast for one and a half hours (allow 1 hour for each kilo).
Remove the foil, mix a tablespoon of balsamic with a tablespoon of honey and brush over the chicken.
Cook for a further 25 minutes, basting occasionally, <?xml:namespace prefix = o ns = "urn:schemas-microsoft-com:office:office" />
Allow the chicken to rest and add all the vegetables and juices to a pan.
Add 300ml chicken stock bring to the boil.
Mix 1 tablespoon cornflour with a tablespoon of cold water and whisk into the hot liquid.
When thickened, strain. 


Lime and Coconut Chocolate Truffles

250g chopped dark chocolate
75g soft butter
Zest and juice 2 limes
1 tablespoon liquid glucose
2 tablespoons honey
100ml double cream
Splash spiced rum (optional)
1/2 teaspoon all spice
50g desiccated coconut, toasted until golden brown on a baking sheet in a 180oc oven

Mix the lime zest with the chocolate and butter.
Boil the juice with the glucose,honey,rum and allspice for 2 minutes.
Add the cream and bring to the boil.
Pour over the chocolate mixture and stir until melted.
Chill to set.
Dip a melon baller in boiling water and then into the chocolate mixture to make balls.
Roll in the coconut.
Chill to set and serve.