Freedom from Torture
Listen in pop-out player
Thandie Newton presents the Radio 4 Appeal for Freedom from Torture
Reg Charity:1000340
To Give:
- Freephone 0800 404 8144
- Freepost BBC Radio 4 Appeal, mark the back of the envelope Freedom from Torture.
Last on
Freedom from Torture
Freedom from Torture is dedicated to the rehabilitation and therapeutic care of survivors of torture who have fled to the UK seeking sanctuary, working also to protect and promote their rights. It has treatment centres in London, Birmingham, Manchester, Newcastle and Glasgow and is developing a new presence in Yorkshire and the Humber.

Survivors of torture and organised violence at Freedom from Torture's five treatment centres have often stood up to appalling violence and intimidation with great bravery. Most have been targeted because of their ethnicity, religion, gender, sexuality or political stance. All have been subjected to savage physical, sexual or psychological violence at the hands of others. The psychological impact of torture is immense and long-lasting.

There are no quick fixes for the devastating consequences of torture. The complex needs of survivors are often beyond the scope of one professional and can require a holistic approach and a coordinated team effort, for many months or even years. At Freedom from Torture everything possible is done to help survivors rebuild their lives.
Since its inception in 1985, known then as the Medical Foundation for the Care of Victims of Torture, more than 50,000 individuals have been referred for help. Last year, Freedom from Torture received referrals from more than 80 different countries, with the largest numbers coming from Iran, Sri Lanka, Afghanistan and the Democratic Republic of Congo. The organisation helped more than 1,600 survivors - men women and children - to piece their lives back together.

The Garden where the horticultural Natural Growth Project takes place
Art Therapy enables clients to express their feelings without words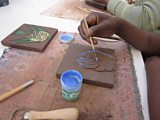 Freedom from Torture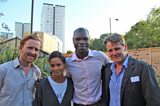 Thandie Newton and fellow actors with Kolbassia, a former client and coordinator of Survivors Speak OUT network in the therapy garden.
The SSO network is composed of former clients of Freedom from Torture who speak out against torture and raise awareness of its use and the impact it has on people who have suffered it.
Join our Facebook Community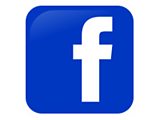 The place where you can find out more about the charities you support and ask them how they are spending your donations.