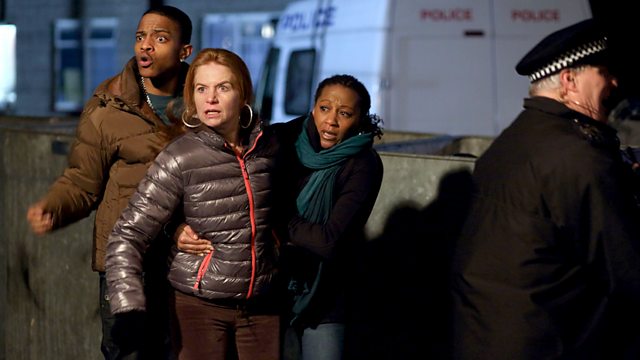 28/03/2013
A girl from the Byron Estate, Ashleigh, recognises Liam from King Edwards. Kane instructs her to bring some girls to his party that night. Liam's anxious when he spots a police car; Kane wonders if he's gone soft. The gang lecture Liam about loyalty and make him fight Little Chris. Ignoring Dexter's entreaties, Ava steps in. Kane greets her as 'Teach'. Ava takes a bloodied Liam back to her house. When Ava leaves the room to call Bianca, Liam flees; Dexter sees Kane collar Liam outside. Later, at the party, Ashleigh tries to persuade Liam to leave with her but Kane insists he stays. When Kane turns threatening, Liam locks himself in the bathroom. Bianca's distraught when she reaches Ava's and discovers Liam's gone. Liam phones Bianca; she can hear him crying and Kane banging on the door. Reluctantly, Dexter gives Bianca Kane's address. Ava calls the police. When Kane discovers Liam's phoned Bianca, he becomes even more menacing. The police burst in and the teens are led out with Ava, Bianca and Dexter watching. Kane makes a gunshot sign to them in warning, after ordering Liam to say nothing. Bianca watches as Liam's driven away.
After initially shutting the door on him, Carol invites Masood round to share the curry he made. Masood bribes Tiffany and Morgan to go to bed. Masood's angry when Carol confesses Liam's part in Tamwar's mugging but ends up comforting her.
Sheila gives Fatboy her husband's watch as a reward. When Fatboy and Poppy excitedly tell Dot they can afford to get a flat of their own she can't hide her upset. Dot later admits to Fatboy the council are trying to take her house.
Ian and Jean pitch their wedding cake ideas to Sharon and she asks them both to make a small test cake.
Last on
Credits
| Role | Contributor |
| --- | --- |
| Liam Butcher | James Forde |
| Bianca Butcher | Patsy Palmer |
| Ava Hartman | Clare Perkins |
| Dexter Hartman | Khali Best |
| Kane | Harry Rafferty |
| Little Chris | Rizwan Shebani |
| Ashleigh | Claire Wolf |
| Ali | Leanne Dunstan |
| Renzo | Chase Willoughby |
| Tayo | Youssef Berouain |
| Carol Jackson | Lindsey Coulson |
| Masood Ahmed | Nitin Ganatra |
| Tiffany Butcher | Maisie Smith |
| Morgan Butcher | Devon Higgs |
| Dot Branning | June Brown |
| Arthur 'Fatboy' Chubb | Ricky Norwood |
| Poppy Meadow | Rachel Bright |
| Sharon Rickman | Letitia Dean |
| Ian Beale | Adam Woodyatt |
| Jean Slater | Gillian Wright |
| Sheila Morris | Sara Crowe |
| Executive Producer | Lorraine Newman |
| Director | Rebecca Gatward |
| Writer | Perrie Balthazar |