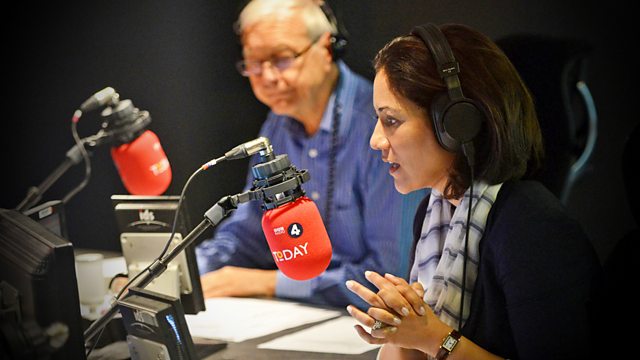 28/03/2013
Morning news and current affairs with Sarah Montague and Evan Davis, including:
810
Banks in Cyprus are to reopen on Thursday at 10:00 GMT, 10 days after they closed to prevent a bank run as a controversial bailout was negotiated. The BBC's Europe correspondent Chris Morris provides analysis, and Costa Thomas, a British Cypriot businessman, and Demetria Karantoki, chief executive of Medcon, a civil engineering firm, also of Crown Plaza Hotels in Cyprus and Vice president of the Cypriot Employers Federation, examine the impact that the reopening will have on the Cypriot and European economies.
0822
Roger Hermiston, author of The Greatest Traitor: The Secret Lives of Agent George Blake, and Gill Bennett, former chief historian at the Foreign Office, discuss which double-agent was greatest traitor in British history.
0834
The BBC's technology reporter Rory Cellan Jones explains that internet connections around the world have been slowed down by what's been called "the biggest cyber-attack in history". Howard Schmidt, former cyber-security coordinator to President Obama, describes how these attacks can be defended against.
Last on
A rundown of stories from Thursday 28 March including programme highlights and comment.