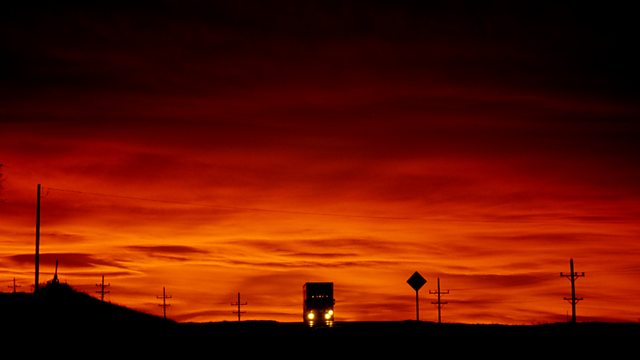 30/03/2013
As part of Radio 3's "Baroque Spring", Catriona Young presents a performance of Buxtehude's 7 Passion Cantatas known collectively as 'Membra Jesu nostri'.
1:01 AM
Buxtehude, Dietrich (1637-1707)
Membra Jesu nostri - 7 passion cantatas BuxWV.75
Barbara Schlick (soprano), Monika Frimmer (soprano), Michael Chance (alto), Christophe Prégardien (tenor), Peter Kooy (bass), Hannover Knabenchor, The Amsterdam Baroque Orchestra, Ton Koopman (conductor)
2:02 AM
Brahms, Johannes (1833-1897)
Sonata for violin and piano No.1 (Op.78) in G major
Veronika Eberle (violin), Francesco Piemontesi (piano)
2:29 AM
Haydn, Joseph (1732-1809)
Symphony No.97 in C major (H.1.97)
Netherlands Radio Chamber Orchestra, Antoni Ros-Marbà (conductor)
2:55 AM
Norman, Ludvig (1831-1885)
Dream and Reality - 2 Contrasts for Piano (Op.61, Nos 1&2)
Bengt-Åke Lundin (piano)
3:01 AM
Svendsen, Johan (1840-1911)
Norsk kunstnerkarneval (Op.14)
Norwegian Radio Orchestra, Ari Rasilainen (conductor)
3:08 AM
Mussorgsky, Modest (1839-1881)
Pictures from an Exhibition for piano
Steven Osborne (piano)
3:44 AM
Hindemith, Paul (1895-1963)
Symphony "Mathis der Maler"
Concertgebouw Orchestra, Eugene Ormandy (conductor)
4:09 AM
Schumann, Robert (1810-1856)
Märchenbilder for viola and piano (Op.113)
Maxim Rysanov (viola) , Evgeny Samoyloff (piano)
4:27 AM
Couperin, Francois (1668-1733) arranged by Bartók, Béla (1881-1945)
Le Moucheron (from Pieces de clavecin - ordre no.6)
Jan Michiels (piano)
4:29 AM
Respighi, Ottorino (1879-1936)
Trittico Botticelliano
Norwegian Radio Orchestra, Peter Sánta (conductor)
4:51 AM
Schubert, Franz (1797-1828)
Jägers Abendlied (D.368) (Op.3 No.4)
Christoph Prégardien (tenor), Andreas Staier (fortepiano)
4:54 AM
Schubert, Franz (1797-1828)
Der Musensohn (D.764) (Op.32 No.1)
Christoph Prégardien (tenor), Andreas Staier (fortepiano)
4:56 AM
Debussy, Claude (1862-1918) orch. Brewaeys, Luc (b.1959)
No.6 Général Lavine - eccentric from Preludes Book II
Royal Flemish Philharmonic, Daniele Callegari (conductor)
5:01 AM
Grainger, Percy (1882-1961)
The Gum-Suckers' March (No.4 from In a Nutshell - suite for orchestra)
Symphony Nova Scotia, Georg Tintner (conductor)
5:06 AM
Allegri, Gregorio (1582-1652)
Miserere mei Deus (Psalm 51) for 9 voices
Camerata Silesia, Anna Szostak (conductor)
5:19 AM
Viotti, Giovanni Battista (1755-1824)
Duo concertante in B flat major
Alexandar Avramov, Ivan Peev (violins)
5:27 AM
Mägi, Ester (b.1922)
Duod rahvatoonis for flute and violin
Jaan Õun (flute), Ulrika Kristian (violin)
5:30 AM
Rimsky-Korsakov, Nikolai (1844-1908)
Overture to Pskovitjanka (The Maid of Pskov)
BBC Philharmonic, Vassily Sinaisky (conductor)
5:38 AM
Bach, Johann Christian (1735-1782)
Quintet (Op. 11) no 4 in E flat major for flute, oboe, violin, viola and double bass
Les Amabassadeurs
5:54 AM
Byrd, William (c.1543-1623)
O Lord, how vain - for voice and 4 viols
Emma Kirkby (soprano), The Rose Consort of Viols
6:01 AM
Bliss, Sir Arthur (1891-1975)
Concerto for cello and orchestra, T.120
Shauna Rolston (cello), Edmonton Symphony Orchestra, Uri Mayer (conductor)
6:30 AM
Tchaikovsky, Pyotr Il'yich (1840-1893)
3 Piano pieces
Niklas Sivelöv (piano)
6:36 AM
Reicha, Antoine (1770-1836)
Clarinet Quintet in B flat major (Op.89)
Jo?e Kotar (clarinet), Slovenian Philharmonic String Quartet.
Last on