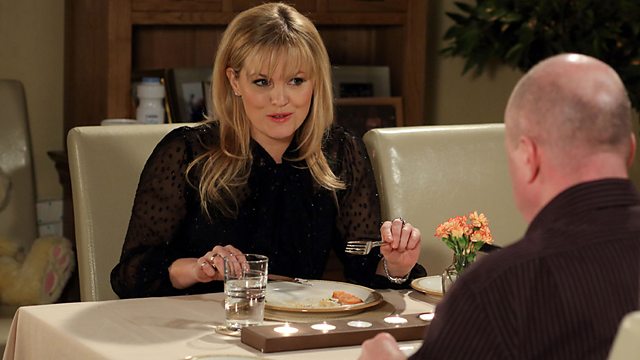 19/03/2013
Phil comes to Tanya's rescue when Oscar locks her out, keeping watch for her while she fetches Max's key. Later, Max is annoyed when Tanya won't return his key, pointing out she doesn't have a man to help her. Tanya fibs that she does, to Max's surprise. In the cafe, Tanya buys Phil a tea; he overhears her lie to Max. He teases she can't kid a kidder but offers to date her, inviting her for dinner. Sharon's stunned to hear of the date but covers. Nervous Tanya arrives for dinner; they end up getting along, laughing when Phil admits Jean cooked. As they bid goodbye, Sharon watches jealously.
As Liam rages in his room, Tiffany and Morgan find Bianca sleeping outside his bedroom door. Carol worries that Liam's had nothing to eat, Bianca's fearful of letting him out. While Bianca's at work, Carol and Ray bring him food, shocked that he's trashed the bedroom. Liam bolts for the door and is restrained by Ray. Carol and Ray worry that Liam needs a councillor. Bianca talks to Liam through the door. Liam seems to calm, imploring that he misses her. Moved, Bianca opens the door but Liam quickly turns, sneering Bianca's the reason he's the way he is. Enraged, Bianca slaps Liam and locks him in again.
Lucy's unimpressed when Ian reveals he's meeting a financial advisor about a loan to open a restaurant. She reconsiders when Denise and Ian plead with her but the meeting's a flop when Ian divulges he's been ill.
Kat's frustrated that once again No 23 is a mess. She rings Mo to evict Alice and Joey but can't afford full rent. Kat asks Alfie for help. Alfie's annoyed when he's already paid for the stall and tells her to ask Michael. Kat rings a child maintenance helpline.
Last on
Credits
| Role | Contributor |
| --- | --- |
| Phil Mitchell | Steve McFadden |
| Tanya Cross | Jo Joyner |
| Sharon Rickman | Letitia Dean |
| Bianca Butcher | Patsy Palmer |
| Liam Butcher | James Forde |
| Carol Jackson | Lindsey Coulson |
| Ray Dixon | Chucky Venn |
| Ian Beale | Adam Woodyatt |
| Denise Fox | Diane Parish |
| Lucy Beale | Hetti Bywater |
| Max Branning | Jake Wood |
| Kirsty Branning | Kierston Wareing |
| Kat Moon | Jessie Wallace |
| Alfie Moon | Shane Richie |
| Michael Moon | Steve John Shepherd |
| Alice Branning | Jasmyn Banks |
| Billy Mitchell | Perry Fenwick |
| Morgan Butcher | Devon Higgs |
| Tiffany Butcher | Maisie Smith |
| Executive Producer | Lorraine Newman |
| Writer | Jeff Povey |