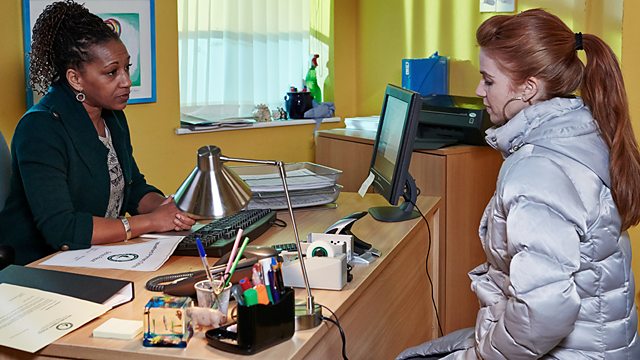 18/03/2013
Alfie's worried that Kat's not coping with Tommy when he sees No 23 is a mess and wants to discuss the contact order, to her irritation. Kat loses her market pitch when she's late opening up. Alfie makes a solicitor's appointment and lies to Jean that Kat's agreed. Kat's furious and demands to take Tommy home, drinking while she waits. Michael jeers that Alfie doesn't trust her with Tommy. Stung, Kat cleans the house, reasons with Tamwar to call if she's late again and insists Alfie stop doubting her.
After staying out all night, Liam comes home but refuses to go to school, ignoring Bianca's pleas. Worried, Bianca recruits Ray to watch Liam while she has a meeting at Tiffany's school. Ava stands in for Tiffany's teacher and is concerned about the kids' tardiness, missed homework assignments and rumours about gangs. Ava confides Dexter was in a gang. Bianca clams up. She returns home, horrified to find the gang waiting outside. Kane warns he'll see Liam soon. Inside, Liam's intent on leaving and furiously grapples with Ray. Left with no choice, Ray and Bianca lock Liam in his room.
Sharon returns from a trip away with Jack and is put out when Phil ignores her. Exhausted by crying Lexi, Phil falls asleep in the cafe. Tanya sympathises. Max is interested in renting No 47A. Sharon tells Tanya and advises her to show Max she's moved on. Phil and Max rekindle their business arrangement. Kirsty's hopeful they'll raise the flat deposit. Sharon accuses Phil of blanking her and later announces she and Jack are marrying in R&R in three weeks.
Ian digs out his old suit when Denise reveals she's always liked a well dressed man. Ian reminisces with Dot, ponders going back to work and tells Denise he's thinking of opening a restaurant.
Last on
Credits
| Role | Contributor |
| --- | --- |
| Bianca Butcher | Patsy Palmer |
| Liam Butcher | James Forde |
| Ray Dixon | Chucky Venn |
| Kat Moon | Jessie Wallace |
| Alfie Moon | Shane Richie |
| Max Branning | Jake Wood |
| Kirsty Branning | Kierston Wareing |
| Sharon Rickman | Letitia Dean |
| Dennis Rickman | Harry Hickles |
| Jack Branning | Scott Maslen |
| Phil Mitchell | Steve McFadden |
| Tanya Cross | Jo Joyner |
| Ian Beale | Adam Woodyatt |
| Denise Fox | Diane Parish |
| Dot Branning | June Brown |
| Tamwar Masood | Himesh Patel |
| Jean Slater | Gillian Wright |
| Ava Hartman | Clare Perkins |
| Michael Moon | Steve John Shepherd |
| Lucy Beale | Hetti Bywater |
| Ali | Leanne Dunstan |
| Executive Producer | Lorraine Newman |
| Writer | Jeff Povey |