Mason McQueen
Mason McQueen has left behind his family and life as a London taxi driver to experience the life of a taxi driver in Mumbai
| Fact title | Fact data |
| --- | --- |
| Age | 44 |
| Lives | Epping |
| Family | Wife, Nancy and two daughters, Phoebe and Isabella |
Born and bred in Bethnal Green, Mason is a true Cockney cab driver. Before driving a taxi he worked as a doorman at The Berkeley and The Dorchester. In one way or another he feels he has always been an ambassador for his beloved London.
Three of his uncles and several of his cousins are also cabbies so it was almost inevitable that one day he would follow in their footsteps and embark on the Knowledge. After three gruelling years studying the city's maze of streets and myriad buildings he finally got his badge in January 2007.
Mason works six days a week, starting at midday, finishing at midnight. He eats with his fellow cab drivers in the city's cabman shelters and, as a West Ham supporter, enjoys playing football on a Friday at Parliament Hill.
Mason takes pride in his work and always has a kind word (or two) and a cheeky smile for his punters, especially if it gets him a tip. If you spot him on your travels say hello!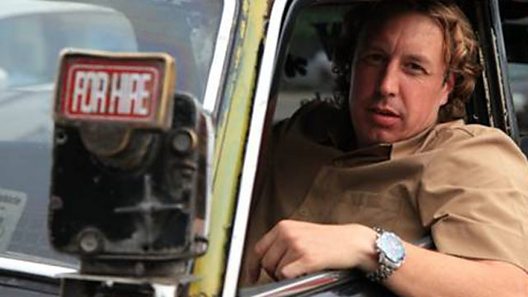 London taxi driver Mason McQueen heads to Mumbai to experience life on India's roads