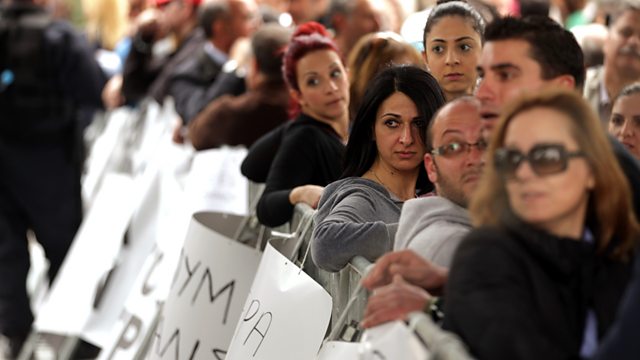 22/03/2013
Morning news and current affairs with Sarah Montague and John Humphrys, including:
0751
A soldier who "kept a cool head under fierce fire" in Afghanistan is one of 119 servicemen and women being honoured for their bravery today. Capt Mike Dobbin, who is being awarded the Military Cross, and Private Lewis Murphy, who has been cited for the Queen's Commendation for Bravery, reflect on their experiences.
0810
Cypriot MPs are to vote on new measures to raise the funds the country needs to secure vital bailout before today's deadline. The BBC's Europe correspondent Chris Morris reports, and Michael Meister, deputy parliamentary chairman of Merkel's CDU party and their chief economic spokesman, and Sir Howard Davies, former chairman of the FSA and former deputy governor of the Bank of England, discuss the action that Cypriot MPs need to take.
0820
The crime drama queen Lynda La Plante, author of Prime Suspect and Trial and Retribution, has become the first non-scientist to be inducted into the Forensic Science Society. Lynda La Plante, and the president of the Forensic Science Society, Dr Ann Priston, examine the extent to which science is a good tool for television drama.
0831
EU foreign ministers will be meeting in Dublin today and will be considering whether it is time to start arming rebels in Syria. Sir Malcolm Rifkind, a former foreign secretary, and Professor Rosemary Hollis, professor of Middle Eastern studies at City University, discuss whether Syrian Rebels should be given military support.
Last on
A rundown of stories from Friday 22 March including programme highlights and comment.
Friday 22 March
Cyprus is to make a fresh effort to stave off bankruptcy. The Patients' Association says four-fifths of people it questioned said they would rather not be treated for an urgent problem by a doctor from an out-of-hours service. And can we stop feeling guilty about putting animals in zoos?
0852

The European Central Bank has raised the stakes in Cyprus by threatening to pull the plug on emergency liquidity to its debt-strapped banks Monday unless it agrees a controversial bailout. The BBC economics editor Robert Peston explains and provides analysis.

0846

London Zoo opens a new enclosure today for its Sumatran tigers. The Today programme's Tom Bateman reports from the Zoo and David Field, London Zoo's zoological director, and Dr George McGavin, zoologist and television presenter, debate the ethics of keeping Tigers in captivity.

Coming up at 0900...

Desert Island Discs

with the actress Julie Goodyear, a.k.a. Bet Lynch of Coronation Street fame. Listen to Radio 4 at 0900.

0841

The Chinese leader, Xi Jinping is in Moscow for talks with President Putin - he's chosen Russia as the first capital city to visit since he became leader. Dr Bobo Lo, director of the Russia and China programmes at the Centre for European Reform, and Anne Applebaum, author of Iron Curtain, a book about the Soviet empire in Europe, discuss the history of relations between these two countries and what they could stand to gain by developing closer ties.
See more live updates