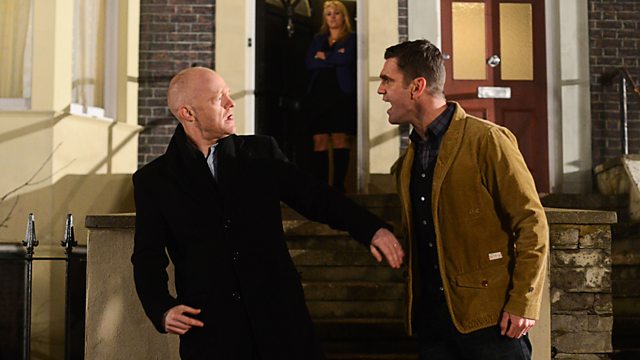 14/03/2013
When Kirsty and Max argue about Tanya, Kirsty gloats - did Tanya tell him Abi was in her boyfriend's bedroom until 3am? Max's initially sceptical then storms over to confront Abi. Tanya admits it's true, but wants Max to calm down. Abi insists Max can't stop her seeing Jay. Max charges round to the Arches, only pausing to have a go at Jack who's heading to No.5 with a takeaway. Jay's firm - he loves Abi and won't stop seeing her, would take a battering every day if he had to and would kill himself if he hurt Abi. Calmer, Max returns to No.5 but when Jack comes downstairs Max jumps to conclusions and throws him out.
When Bianca confronts Liam with the notepaper and money belt, Liam says his mate, Kane, found the belt and denies knowing the boys Shirley said he was hanging out with. Liam leaves, claiming he's going to return Tamwar's money belt. Bianca confides in Carol, admitting she lied to the police. Bianca's distraught when Kat reveals the police think the mugging was down to a known gang from the Byron Estate. Collecting leftovers from the café, Bianca discovers that Liam hasn't given Tamwar back the belt. When Bianca doesn't come home, Kat suspects where she's gone. On the Byron Estate, Bianca sees a gang of teens and realises one of them is Liam…
Alfie tells Kat he wants to talk to her. It's karaoke night but no-one (except Jean) wants to sing. Kirsty and Kat laugh about Roxy's constant hair fiddling. Eventually Alfie admits to Kat he wants a contact order for Tommy. Kat's indignant, she'd never stop him seeing Tommy, but Alfie's adamant and Kat leaves, hurt. Roxy and Kirsty bicker about the karaoke and Alfie's forced to call in Jean to get things started.
Last on
Credits
| Role | Contributor |
| --- | --- |
| Bianca Butcher | Patsy Palmer |
| Liam Butcher | James Forde |
| Alfie Moon | Shane Richie |
| Kat Moon | Jessie Wallace |
| Roxy Mitchell | Rita Simons |
| Kirsty Branning | Kierston Wareing |
| Max Branning | Jake Wood |
| Tanya Cross | Jo Joyner |
| Abi Branning | Lorna Fitzgerald |
| Jay Mitchell | Jamie Borthwick |
| Jack Branning | Scott Maslen |
| Tamwar Masood | Himesh Patel |
| Carol Jackson | Lindsey Coulson |
| Whitney Dean | Shona McGarty |
| Renzo | Chase Willoughby |
| Kane | Harry Rafferty |
| Little Chris | Rizwan Shebani |
| Ali | Leanne Dunstan |
| Tayo | Youssef Berouain |
| DS Bain | Joe Tucker |
| Executive Producer | Lorraine Newman |
| Director | John Greening |
| Writer | Peter Mattessi |