Alain de Botton and JJ Williams' Inheritance Tracks
Richard Coles and Sian Williams talk to Alain de Botton about his new 'Manifesto for Atheists' and his desire to popularise challenging subjects like science, philosophy and architecture- amongst other things. They hear from two former Birmingham gang members about how they got out of the vicious cycle of gang life, meet Devon based composer David Haines and find out about how he brings popular engagement with science through song- he's the songwriter in residence at the MIT science festival in the US in a few weeks time, thrill to a Saturday Live Society: this week the 'Friends of the Newport Ship' who rescued, conserved and now plan to rebuild a 15th ship found when the orchestra pit for a theatre was being dug next to the river Usk in Newport, Wales, listen to Welsh rugby legend J.J. Williams as he shares his Inheritance Tracks and journey with John McCarthy to the Watts Gallery in Compton Surrey to explore the largely forgotten genius of Victorian artist, GF Watts.
Producer: Chris Wilson.
Last on
STUDIO GUEST :: ALAIN DE BOTTON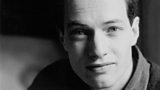 Alain
joins Sian and Richard to talk about his life and work including his latest work, Manifesto for Atheists.
ONE MILE AWAY :: ESCAPING THE GANG LIFESTYLE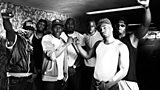 Dylan and Zimbo grew up in inner city Birmingham on opposite sides of town, and since they were teenagers have been indoctrinated with the gang lifestyle.  Now in their 30's, they're attempting to turn back the tide of gang violence with their social enterprise, 'One mile away'.
They have appeared in a new film also called 'One Mile Away' which is released in selected cinemas from 29th March, and will be shown on Channel 4 in April.

INHERITANCE TRACKS :: JJ WILLIAMS
John James Williams MBE, known universally as J.J. Williams, is a former Welsh rugby union player who gained thirty caps for Wales as a winger.  He inherits The Animals - House Of The Rising Sun
and passes on Bread of Heaven written by John Hughes.
SATURDAY LIVE SOCIETY :: FRIENDS OF THE NEWPORT SHIP
Jean Grey is the treasurer of this society which was set up to ensure the restoration of the
Newport Ship
, a 15th century ship excavated from Newport quay.
TRAVEL :: THE WATTS GALLERY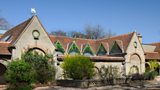 John McCarthy visits the
Watts Gallery
in Compton, Surrey, where Victorian painter George Frederick Watts lived and worked.
SCIENCE :: BEING A MUSICIAN IN RESIDENCE
David Haines is a songwriter who found himself 'in residence' at a science festival.  He tells Sian and Richard how this happened.

BLOG - RICHARD IN EVESHAM
I've been down memory lane this week. I was bidden to a do at Evesham in Worcestershire and the sat nav took me through Stratford on Avon, where I lived thirty five years ago. I went to college there, to study drama and A levels back in the day when things called Local Authorities gave you things  called grants, and they were two of the most vivid years of my life. Odd to be back, in the college which is much grander now than it used to be, and much more secure. I had to assert my bona fides to the nice ladies at reception and they directed me to the new theatre, bearing the name of the principal in my day, which made me feel old. Some things hadn't changed at all. Students were scampering around in black footless tights and an encouraging sign on the drama studio door warned of the sex, violence, swearing and vomiting in the current production. I then had a little wander round the town, discovering that the nice Swiss bakery, where I used to get toast and soldiers after an all-nighter is now a MacDonald's, and that the Royal Shakespeare Theatre has sprouted extensions. It was there I made my professional debut as Old Father Time, with the Sadlers Wells ballet touring production of Coppelia. I was fired after one night because I looked ridiculous. Of course I looked ridiculous in an old nightie and a long beard holding a scythe; I'm afraid some of the unkinder members of the corps de ballet bashed me with their lanterns as I went round the stage on a special cart. They kindly rehired me to play a wood cutter, standing at the back with my mate Fergus, and I was so excited I made my entire family come and watch. Unfortunately they couldn't tell which one was me, a useful lesson for a fledgling performer.
Autre temps autre moeurs, as we say on Saturday Live. On this week's programme I return to the wreck JP Devlin made of the co-presenter's chair in my absence to cast an ear over the following: our studio guest is top philosopher about town Alain de Botton, who follows up last year's 'Religion for Atheists', which we did on the programme, with a new 'Manifesto for Atheists', a sort of non-religious ten commandments. Sian's been hanging out with gang members from Brum – we'll hear from them. And we also hear from David Haines, the only songwriter in residence at a science festival in the world
John McCarthy tours the Watts Gallery in Surrey, we meet the Friends of the Newport Ship, a 15th century vessel dug out of the Usk's preserving mud – and we have the Inheritance Tracks of the Welsh winger, JJ Williams. Join us on Saturday morning  just after nine.
STUDIO PHOTO :: SIAN, ALAIN AND RICHARD