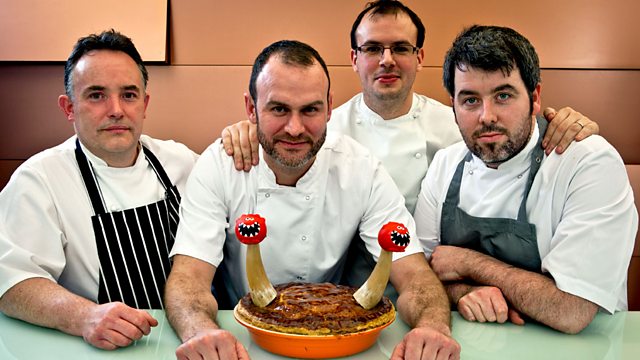 Great British Menu continues as 24 of the nation's finest chefs battle it out to cook gastronomic masterpieces that are also witty and fun. Their dishes have to put a smile on faces as Great British Menu celebrates 25 years of Comic Relief's Red Nose Day appeals.
Through the power of entertainment the charity has raised more than 800 million pounds, changing the lives of people in both Africa and the UK. So this year Britain's top chefs have been challenged to marry serious cooking with humour to celebrate the charity's achievements. The prize: to cook a dish at a special banquet at The Royal Albert Hall.
This time it is the turn of three chefs from Northern Ireland who will be judged by a veteran of the competition - Michelin star chef Glynn Purnell who, as a former banquet winner, knows exactly what it takes to come up with a winning dish. It is his job to decide which chefs make it through to the judges.
The two highest scoring chefs will cook their entire menu again for the Great British Menu judges Prue Leith, Matthew Fort and Oliver Peyton. This time they are joined by writer and performer Charlie Higson.
The three Northern Ireland chefs cook their fish courses. Chris Fearon serves up a creation called Stitched Up Like a Kipper, while Raymond McArdle draws inspiration from a view from home and serves turbot called A Day at the Beach. Ian Orr creates a dish with a play on an old joke called Why Did the Scallop Cross the Roe.
Last on
Credits
| Role | Contributor |
| --- | --- |
| Series Producer | Lisa Hazlehurst |
| Series Producer | Lisa Hazlehurst |
| Executive Producer | Nicola Moody |
| Executive Producer | Nicola Moody |
| Judge | Glynn Purnell |
| Judge | Glynn Purnell |