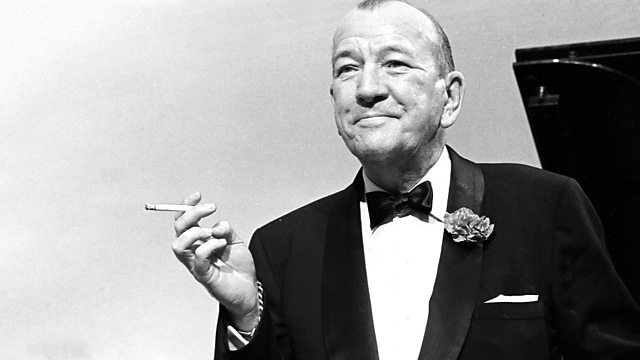 Mr Bridger's Orphan
Commissioned to commemorate the 40th anniversary of the death of Noel Coward, Mr Bridger's Orphan tells a surprising and little-known story from his life. It's 1968 and Coward is in Dublin to play the chief gangster in the film The Italian Job. But why has the urbane actor and playwright, in failing health, accepted the role?
The play tells the story of how his involvement in the movie emerged from a significant encounter during Coward's dynamic and humane twenty-year Presidency of the Actors' Orphanage, revealing the down-to-earth man behind the sometimes waspish and rarefied public persona.
Between 2000 and 2008 playwright Marcy Kahan wrote a quintet of comic plays about Noel Coward for BBC R4, each set in a different city at a different stage of his life. Design for Murder was a 1930s backstage murder mystery; Blithe Spy took him to New York on an wartime espionage adventure, consistent with his real-life work for British Security Co-ordination; A Bullet At Balmain's interrupted his 1947 Paris stage debut with the death of a fashion-house mannequin; Death At the Desert Inn distracted him from his 1955 Las Vegas cabaret debut with the death of a chorus girl; Our Man in Jamaica re-enlisted him as a spy in 1961, as part of his neighbour Ian Fleming's outlandish plot to destabilise Fidel Castro.
Mr Bridger's Orphan reunites the cast of the Coward quintet: Noel Coward is played by Malcolm Sinclair; his devoted secretary Lorn Loraine by Eleanor Bron; and his devoted Man Friday, Cole Lesley, by Tam Williams. And it also features young Finlay Christie, who's making a name for himself as one of our youngest stand up comedians, and who stars in the Radio 4 comedy series the Gobetweenies.
Writer ..... Marcy Kahan
Director ..... Marilyn Imrie.
Last on
Mr Bridger and his orphan.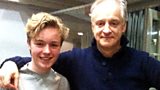 Finlay Christie and Malcolm Sinclair recording Mr Bridger's Orphan at BBC Maida Vale Studios.
Credits
| Role | Contributor |
| --- | --- |
| Lorn Loraine | Eleanor Bron |
| Cassie | Lizzy Watts |
| Desmond | Will Howard |
| Headmaster Savage-Bailey | Ben Crowe |
| Ivor Novello | Rick Warden |
| Cedric Hardwicke | Nicholas Murchie |
| Jill Esmond | Joanna Brookes |
| Writer | Marcy Kahan |