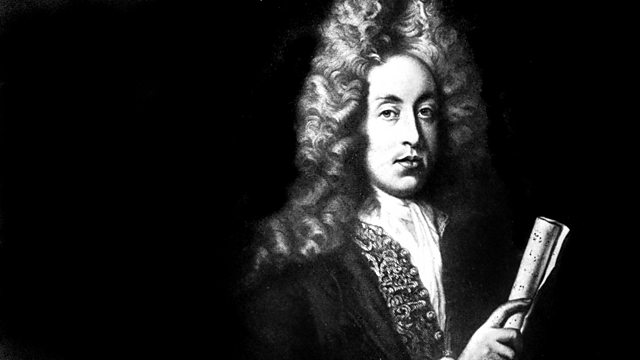 From the End to the Beginning
As part of BBC Radio 3's Baroque Spring season, Donald Macleod presents five snapshots of the greatest English composer of the era - a man whose uniquely original music still has the power to beguile, amuse, enrapture and disturb more than 450 years after his death.
Henry Purcell was not just the finest Baroque composer to emerge from the British Isles: he was amongst the most gifted and influential composers of any age, with a musical voice that seemed to both look back towards the Renaissance and Elizabethan era, and yet assert a deeply original English individuality.
In barely a decade and a half of mature work, before his tragic death at the age of 36, Purcell lived through a time of political and religious turbulence - writing for no fewer than four monarchs - Charles II, James II and the co-regents William and Mary - in a huge array of genres. A pioneer of English opera and instrumental music, he was also a composer of ravishing sacred music, anthems and odes, and a songsmith of genius.
This week, Donald Macleod explores a selection of his most celebrated and cherished works, peering in through five distinct windows on his short life.
We begin - at the end. Monday looks at Purcell's shocking early death - a seismic event in English musical culture, whose repercussions were felt for decades afterwards - before taking us back to the key years 1679-80, when Purcell first succeeded to the position of organist at Westminster Abbey, at the age of just 19.
In Tuesday's episode we fast forward three years to 1683, and the virtuoso anthem "They That Go Down To Sea In Ships", written for the remarkable range of the bass singer John Gostling. We also explore one of three Odes to Saint Cecilia, the patron saint of music, that we'll hear this week: "Welcome To All The Pleasures".
At the centrepiece of the week on Wednesday is perhaps Purcell's most iconic work: "Dido and Aeneas". Donald Macleod examines Purcell's revolutionary first opera, its influence and the power it still holds over us more than three centuries on after its composition in 1689. We'll also hear excerpts from each of the opera's three acts, in a trio of celebrated recordings.
Thursday takes us to 1691-2 and two more operas with elements of English myth and fantasy: "The Fairy Queen" and "King Arthur". The series ends on Red Nose Day - and a rare glimpse at Purcell's bawdy sense of humour! As part of BBC Radio 3's "Baroque Around The Clock" in support of Comic Relief, we'll hear a handful of the composer's witty and occasionally scurrilous "catches" for voices.a long way from the stately drama of the stage! We also bring the week to a close with Purcell's last and perhaps most glorious ode to Saint Cecila: "Come, Ye Sons Of Art", composed in the year of his death, 1695.
---
Donald Macleod begins this week of snapshots of Purcell's life at the very end - by exploring the composer's shocking early death at the age of only 36 - a seismic event in English musical culture, whose repercussions would be felt for many years to come. We then turn the clock back to the beginning of Henry Purcell's musical maturity - his appointment to the post of organist of Westminster Abbey in 1679. Part of BBC Radio 3's "Baroque Spring": a month long season of baroque music and culture.
Last on
More episodes
Previous
You are at the first episode