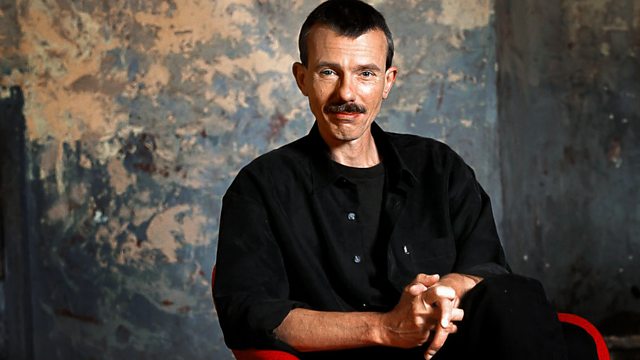 11/03/2013
Part of Radio 3's Baroque Spring. Jonathan Swain presents Bach's St John Passion in a 2012 performance from Copenhagen, conducted by Paul Hillier.
12:43 AM
Bach, Johann Sebastian [1685-1750]
St John Passion, BWV 245
Jakob Bloch Jespersen (bass - Jesus), Julian Podger (tenor - Evangelist), Paul Bentley (tenor - Servant), Jakob Soelberg (bass - Pilate), Asger Lynge Pedersen (bass - Peter), Hanne Kappelin (soprano - Maid), Ars Nova Copenhagen, The Paul Hillier Ensemble, Paul Hillier (conductor)
2:31 AM
Weiner, Leó (1885-1960)
Serenade for small orchestra in F minor (Op.3) (1906)
Hungarian Radio Orchestra, Miklós Erdélyi (conductor)
2:53 AM
Moniuszko, Stanislaw (1819-1872)
String Quartet No.2 in F major (1837-40)
Camerata Quartet
3:11 AM
Chopin, Fryderyk [1810-1849]
4 Mazurkas for piano (Op.33)
Yulianna Avdeeva (piano)
3:22 AM
Vanhal, Johann Baptist (1739-1813)
Symphony in A minor
Capella Coloniensis, Hans-Martin Linde (conductor)
3:40 AM
Bach, Johann Sebastian (1685-1750)
Sonata for viola da gamba and keyboard No.2 in D major (BWV.1028)
Paolo Pandolfo (viola da gamba), Mitzi Meyerson (harpsichord)
3:55 AM
Veremans, Renaat (1894-1969)
Nacht en Morgendontwaken aan de Nete
Vlaams Radio Orkest , Bjarte Engeset (conductor)
4:06 AM
Ravel, Maurice (1875-1937)
Alborada del gracioso - from the suite 'Miroirs' (1905)
Bengt-Åke Lundin (piano)
4:14 AM
Musorgsky, Modest (1839-1881)
Khovanschina - overture
Slovenian Radio and Television Symphony Orchestra, Samo Hubad (conductor)
4:19 AM
Weber, Carl Maria von (1786-1826)
Andante and Rondo Ungarese in C minor (Op.35)
Juhani Tapaninen (bassoon), Finnish Radio Symphony Orchestra, Jukka-Pekka Saraste (conductor)
4:31 AM
Telemann, Georg Philipp (1681-1767)
Concerto for trumpet and orchestra in D major
Friedemann Immer (trumpet), Musica Antiqua Köln, Reinhard Goebel (director)
4:38 AM
Svendsen, Johan (1840-1911)
Romeo and Juliet - fantasy (Op.18)
Stavanger Symphony Orchestra, John Storgårds
4:53 AM
Prokofiev, Sergey (1891-1953) arr. Vadim Borisovsky
Balcony Scene from the ballet suite Romeo and Juliet
Gyözö Máté (viola), Balázs Szokolay (piano)
4:59 AM
Brahms, Johannes (1833-1897)
Intermezzo in A major (Op.118 No.2)
Jane Coop (piano)
5:06 AM
Kilar, Wojciech (b. 1932)
Orawa for string orchestra (1988)
Polish Radio Symphony Orchestra, Wojciech Rajski (conductor)
5:14 AM
Handel, Georg Friedrich (1685-1759)
Concerto Grosso in A minor (Op.6 No.4)
The Sixth Floor Ensemble, Anssi Mattila (conductor)
5:25 AM
Strauss, Johann jr. (1825-1899), arr. Schoenberg
Roses from the South
Canadian Chamber Ensemble, Raffi Armenian (conductor)
5:35 AM
Mertz, Johann Kaspar [1806-1856]
Hungarian Fatherland Flowers
László Szendry-Karper (guitar)
5:44 AM
Bizet, Georges (1838-1875) (Suite 2 compiled by Ernest Guiraud)
Selection from L'Arlésienne Suites Nos.1 & 2
Netherlands Radio Symphony Orchestra, Kenneth Montgomery (conductor)
6:06 AM
Gottschalk, Louis Moreau (1829-1869)
Pasquinade (c.1863)
Michael Lewin (piano)
6:09 AM
Gottschalk, Louis Moreau (1829-1869)
Ricordati (op.26/1) (c.1856)
Michael Lewin (piano)
6:13 AM
Haydn, Joseph (1732-1809)
Symphony no.22 (H.1.22) in E flat major 'The Philosopher'
Prima La Musica, Dirk Vermeulen (conductor).
Last on