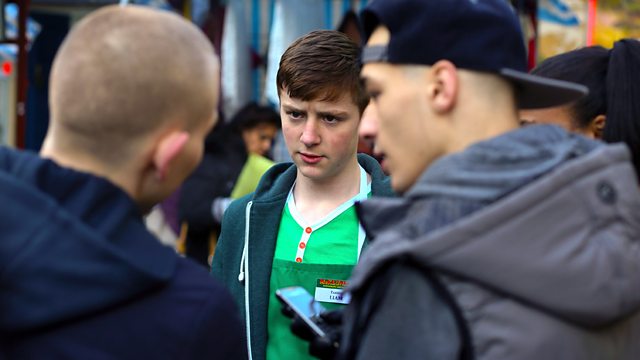 08/03/2013
Billy's worried that Phil will grass on Lola. Phil calls a meeting with them and Trish Barnes and promises there'll be stricter rules surrounding Lola's visits, claiming he's been too easy-going. When Trish is gone, Phil reveals he's merely paying lip service and leaves delighted Lola alone with Lexi. Dennis packs his rucksack, worried that Jack and Sharon's rowing means they're leaving. Jack reassures Dennis. Sharon tells Phil their kiss meant nothing.
Michael discovers Alice is keeping Derek's urn behind the sofa. Anxious to help Alice move on, Carol packs away Derek's things. Alice keeps his lighter. Carol, Alice and Kat visit a spot that reminds Carol of Derek. Carol points out where their old house was and where Derek rescued his dog from the river. Alice scatters Derek's ashes, accompanied by a stray dog.
Poppy tries to fix a leaky tap after Dot refuses to bother the council with it. Poppy rambles about her auntie who once worried about a council letter which turned out to be nothing. Hopeful, Dot finally opens her letter from the council, then orders Poppy to go. Upset, Poppy leaves as shell-shocked Dot rereads her letter – it's regarding court proceedings to re-possess her home.
Gossip mounts when the Minute Mart fails to open. Kim realises Denise never came home and tries to break in, triggering the alarm. Inside, Denise and Ian wake in an embrace. The police break in and free Ian. Denise hides and slips out the back. Kim thinks Denise was with Yam Man and tells Ian Denise is in love.
Liam bunks school again. Dot sympathises, giving him money for a treat which he secretly returns. Liam helps a gang of teens as they're chased by a tube officer. They greet him like old friends. Shirley's concerned.
Steve Lowe asks Carol out.
Last on
Credits
| Role | Contributor |
| --- | --- |
| Dot Branning | June Brown |
| Poppy Meadow | Rachel Bright |
| Phil Mitchell | Steve McFadden |
| Sharon Rickman | Letitia Dean |
| Lola Pearce | Danielle Harold |
| Billy Mitchell | Perry Fenwick |
| Denise Fox | Diane Parish |
| Ian Beale | Adam Woodyatt |
| Kim Fox | Tameka Empson |
| Alice Branning | Jasmyn Banks |
| Carol Jackson | Lindsey Coulson |
| Kat Moon | Jessie Wallace |
| Bianca Butcher | Patsy Palmer |
| Executive Producer | Lorraine Newman |
| Director | Nic Phillips |
| Writer | Matt Evans |
| Liam Butcher | James Forde |
| Joey Branning | David Witts |
| Jack Branning | Scott Maslen |
| Dennis Rickman | Harry Hickles |
| Shirley Carter | Linda Henry |
| Michael Moon | Steve John Shepherd |
| Trish Barnes | Tessa Churchard |
| Steve Lowe | Michael Simkins |
| Police Officer | Ken Bradshaw |
| Ali | Leanne Dunstan |
If you want something done...