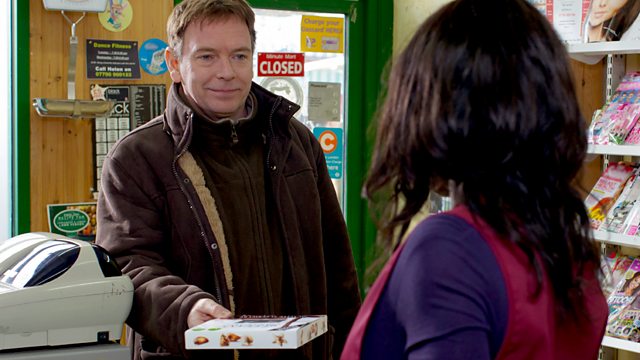 06/03/2013
Phil and Billy race off in search of Lola who hides with Lexi round the corner. Sharon rushes to help, to Jack's fury. At the tube station, Lola realises she's no money, begs change from passers-by then hides on seeing Billy and Phil enter Billy's flat. Phil accuses Billy of being in on it. Billy's sick of Phil controlling everyone and won't let him crush Lola like he did Ben. Sharon insists Phil brought this on himself. Tanya gets a shock when Phil barges in, searching for Lola. Cora's glad Lola stood up to Phil. Jay and Abi join the search. Lola confesses her plight to Dexter; he turns to Ava, pleading with her to let Lola stay - she might do something stupid. Lola answers Billy's call but merely says 'I love you' and hangs up. Meanwhile, Phil rages at Sharon as she insists he made Lola feel she'd nowhere to go. They're interrupted by Ava and Dexter; they race to the Arches, discovering Lexi's abandoned buggy and an empty petty cash tin. Lola sits with Lexi in a taxi as it drives away.
Dot accuses Cora of stealing her cold cuts. Poppy apologises for implying Dot was losing it. Cora seethes to Tanya who drags her to the Launderette. Seeing Poppy's concern, Cora demands to know what's really wrong. Dot flees.
Ian practises chat up lines on an aubergine. His attempts to woo Denise fall flat when he insults her. Denise flirts with Yam Man, a delivery guy. Ian scares him off by pretending to be Denise's husband.
As Denise locks up, Ian tries to apologise. Denise reveals she has a date with Yam Man and explained Ian was crazy. As they bicker, Ian pursues Denise into the back room. The door handle breaks, trapping them.
Last on
Credits
| Role | Contributor |
| --- | --- |
| Lola Pearce | Danielle Harold |
| Phil Mitchell | Steve McFadden |
| Billy Mitchell | Perry Fenwick |
| Sharon Rickman | Letitia Dean |
| Jack Branning | Scott Maslen |
| Dot Branning | June Brown |
| Cora Cross | Ann Mitchell |
| Poppy Meadow | Rachel Bright |
| Tanya Cross | Jo Joyner |
| Denise Fox | Diane Parish |
| Ian Beale | Adam Woodyatt |
| Jay Mitchell | Jamie Borthwick |
| Abi Branning | Lorna Fitzgerald |
| Dexter Hartman | Khali Best |
| Ava Hartman | Clare Perkins |
| Executive Producer | Lorraine Newman |
| Director | Nic Phillips |
| Writer | Daisy Coulam |