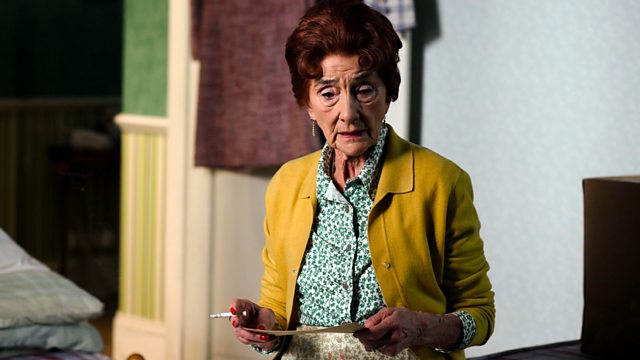 04/03/2013
Anxious for the court hearing, Lola snaps and storms out as Billy's frets and Trish lectures. In Booty, Poppy gives her a child's bowl and cutlery set for Lexi. At court, with Jimmie ill, Phil meets his new brief, David Dessler - he needs a word. Lola despairs to Billy the court will think her a stupid kid; Billy wants the old feisty Lola back to make herself heard. Later in court, Trish reports positively on Lola's progress. Lola requests increased contact with Lexi and seems to impress as she stands up for herself. Everyone's stunned when David issues a surprise statement from Phil claiming Lola is late to contact sessions, impatient with Lexi and unable to control her temper. Astounded, Lola rages at Phil – why is he doing this?!
Patrick's ashamed and unable to face Denise. Denise fibs to Max she cut herself while working. Max thinks it can't be easy for Patrick being nursed and witnesses him shouting at Magda as she fusses around him. Max realises the truth behind Denise's injury and urges Patrick to make things right while Kim pressures Denise to speak to Patrick. Patrick apologises. Denise cancels Magda's help.
Alice badgers Michael for her wages when Kat asks for the rent she subbed her; Michael tells her to flog Janine's clothes and to take a dress for herself. Alice dresses in Janine's dress. When Kat arrives, suspicious that Michael's not been paying Alice, she lies and claims she's been overspending.
Tanya ropes Jack in to fixing a chair for her and advises him about Sharon, warning him not to make the same mistake Max did.
Dot gets a 'private and confidential' letter from Walford council. She hides it in the bureau without opening it and distracts herself by de-cluttering the house, helped by Fatboy.
Last on
Credits
| Role | Contributor |
| --- | --- |
| Lola Pearce | Danielle Harold |
| Phil Mitchell | Steve McFadden |
| Billy Mitchell | Perry Fenwick |
| Sharon Rickman | Letitia Dean |
| Patrick Trueman | Rudolph Walker |
| Denise Fox | Diane Parish |
| Kim Fox | Tameka Empson |
| Michael Moon | Steve John Shepherd |
| Alice Branning | Jasmyn Banks |
| Kat Moon | Jessie Wallace |
| Dot Branning | June Brown |
| Arthur 'Fatboy' Chubb | Ricky Norwood |
| Poppy Meadow | Rachel Bright |
| Tanya Cross | Jo Joyner |
| Jack Branning | Scott Maslen |
| Max Branning | Jake Wood |
| Trish Barnes | Tessa Churchard |
| Judge Madeley | Helen Schlesinger |
| David Dessler | Tristan Beint |
| Hattie Brownlow | Amy Hall |
| Executive Producer | Lorraine Newman |
| Director | Nic Phillips |
| Writer | Fiona Peek |