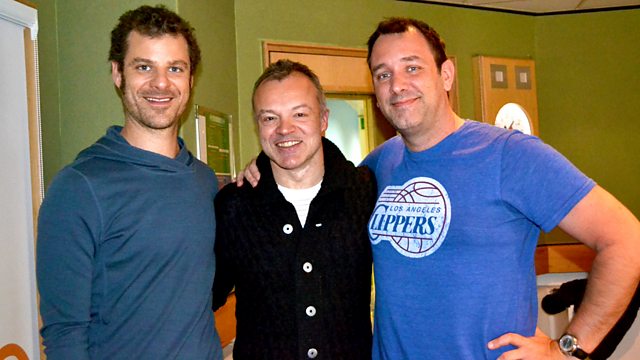 Sam Raimi, Matt Stone and Trey Parker
Just days after raising over a £1 million for Comic Relief, our host caught up with South Park creators Matt Stone and Trey Parker who explained how they made it big on Broadway with the musical Book of Mormon. Graham's second guest was Hollywood film director Sam Raimi who told us all about re-creating Oz and how he wanted to make the ultimate Disney movie.
In Grill Graham, Maria McErlane and our host discussed a borrowed - and ruined - ski jacket, and what to do if a relative or friend is diagnosed with dementia. Even though the latter was a challenge, Radio 2's audience gave some useful and heartfelt advice; thank you.
Over in the I Can't Believe It's Not Better corner, Love Me, Love My Dog by Peter Shelley divided the nation, while our Tune With A Tale once more brought most of us to tears; thanks to Jack in Farnborough for nominating Tim McGraw's Live Like You Were Dying.
If you were affected by the content of this programme...
Last on