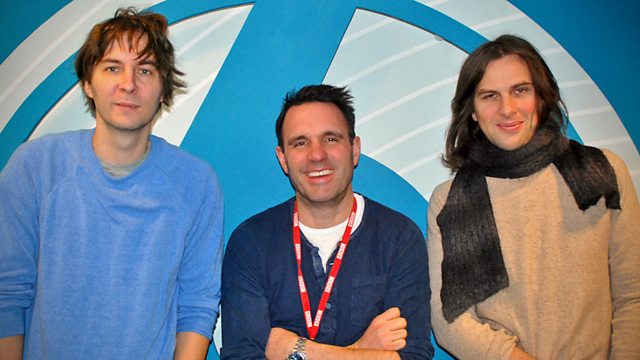 With Phoenix
Grammy winning French band Phoenix talk to their number one fan Shaun about new album 'Bankrupt!', due out 22nd April.
Their fifth album, 'Bankrupt!' is the eagerly anticipated follow up to 2009's critically lauded 'Wolfgang Amadeus Phoenix', which sold over 1 million copies worldwide, was certified Gold in the U.S., and Platinum in Canada, Australia and France. The band also won the Grammy for Best Alternative Album.
With the success of 'Wolfgang Amadeus Phoenix' leading to a sold-out show at New York's Madison Square Garden in 2010, the band's live schedule this time round is even bigger still. A string of U.S. dates will culminate in a Saturday night headlining slot at this year's Coachella, before embarking on a string of European festival performances that kicks off by headlining the Thursday night at Primavera Sound.
Plus, Shaun delivers northern witty wisdom, expels another wriggly Earworm track, and plays tunes to gladden the heart.
There's a killer Touch Me In The Morning track lurking in the playlist to make you sob like a baby. Tissues at the ready! And up-to-the minute music news courtesy of news horse (and former Menswear drummer) Matt Everitt.
Last on