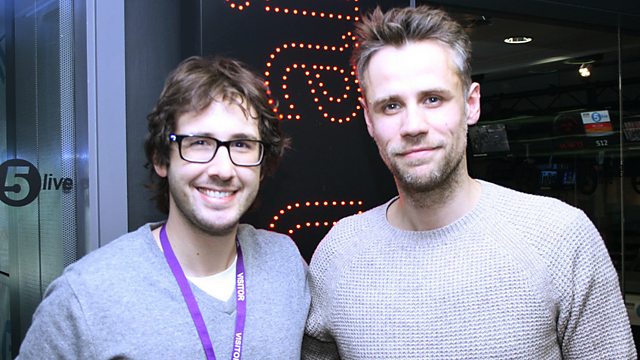 04/03/2013
American singer-songwriter Josh Groban has sold millions of records worldwide & his latest album recently knocked Justin Bieber off the top of the Billboard charts. He joins Richard in the studio ahead of his UK arena tour later this year.
CBeebies TV presenter Justin Fletcher is a familiar face to legions of young fans through a variety of shows from Gigglebiz to Justin's House to Something Special. The man behind Mr Tumble chats about life in the spotlight, the future of children's TV & his compilation of favourite children's songs.
Plus Jodie Whittaker on how she dislocated co-star Olivia Colman's knee during filming of their new ITV drama Broadchurch; the long-running children's show Blue Peter seeks out a new presenter via an X Factor style talent contest; and scientists in America announce a breakthrough in the fight against the HIV virus following successful treatment on a baby girl.
And the Queen leaves hospital in London after an overnight stay following treatment for symptoms of gastroenteritis; police in Bradford seek out Batman after the caped crusader hands over a criminal; and two men measuring over seven feet tall discuss the harsh reality of life towering over the crowd.
Last on
Tall tales
Britain's tallest police officer is in the papers today with this picture.  Richard Bacon asks what it's like to be over 7ft tall. Send us your experiences and pictures. 
Tweet @bbc5live or Text 85058.