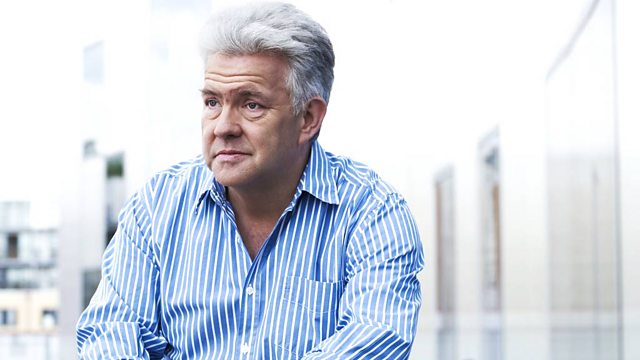 Baroque Verb
Ian McMillan presents a 'Baroque Spring' Verb, part of Radio 3's month-long celebration of Baroque music and culture. He finds out what the term 'Baroque' means for AL Kennedy, Goodbye Leopold, Michael Symmons Roberts and Joel Stickley.
Goodbye Leopold are Madi Shrimpton, Olivia Bradbury and Rosemary Hudson - they compose and perform ethereal songs, using abstract sounds and they also experiment with singing backwards. Here they share a new work, a backwards version of George Herbert's 'Heaven'.
Michael Symmons Roberts reads from his latest collection 'Drysalter' (Cape) - which contains 150 poems, all 15 lines long. Michael talks about his fascination with car imagery, his interest in writing about the body as a way of exploring metaphysics, and whether poems allow us to step out of the body and time. 'Drysalter' has already been nominated for the T.S.Eliot Prize - the third such nomination Michael's work has received.
For the Baroque Verb AL Kennedy asks what the b-word means for contemporary writers, and finds herself appalled by pounds of gold leaf and images of chubby flying toddlers. She talks about the importance of not appearing too self-regarding in writing, which is also discussed in her new book 'On Writing' (Cape). AL's novel 'Day' won the Costa Book of the Year Award, she's published numerous collections of short stories and non-fiction, and she's known for her stand-up comedy shows.
Joel Stickley has invented a nation called 'Grob' who, for the purpose of the Baroque Verb, discover the pleasures of Baroque writing much later than any other country, and embrace it with gusto. Even recipes start to be written in Ottava Rima. Joel is the Poet Laureate for Lincolnshire and the author of the hit blog 'How To Write Badly Well', which is now a book. 'A Hundred Ways to Write Badly Well' (Nasty Little Press).
Last on