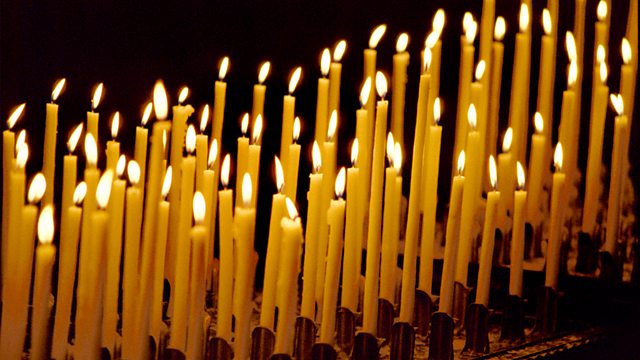 07/03/2013
A spiritual comment and prayer to begin the day with the Revd Clair Jaquiss.
Last on
The Revd Clair Jaquiss
Good morning.  I was in bed suffering from some childhood disease or other.  My mother brought in a number of library books to keep me occupied.  I remember chasing the air bubbles round the covers with my fingers until the front was clear.  Oh – and that glorious smell of paper and print and the unmistakable essence of book that rose up from the pages.
There used to be a stern note printed inside library books.  If they came into contact with infectious diseases, the library was to be notified.  I looked at them strewn across my green flowery eiderdown.  Stories shared, along with my measles – a strange set of connections. 
There is something almost sacramental about books:  the writer's thoughts written or typed from their inner being transferred to print for many to share.  The ideas are there locked in print before they are read.  Then brought to life in the reader's own experience and afterwards held once more for future reading.  Someone once told me that when they'd been in a bookshop or a library – whether or not they'd read anything, they felt changed, inspired – as if they had been in a holy place, surrounded by saints.
This World Book Day celebrates joy and inspiration in the written word.  We talk of devouring books and digesting their content. They become one with us like the physical ingestion of bread and wine that enables individuals to become members of the Body of Christ here on earth.  There is a connection between God and humanity which is more than food, and more than words, more than sharing.  A prayer for today then,
Lord, feed us with the bread of your body and the wine of your kingdom, that we may be refreshed with the fullness of your life.  Amen.