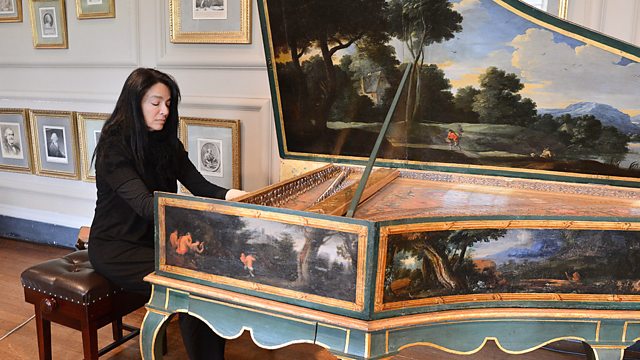 Episode 2
Radio 3's month-long celebration of Baroque music and culture continues with harpsichordist Carole Cerasi playing D'Anglebert, Couperin, Rameau and Forqueray live at the National Trust property of Hatchlands in Surrey, home to the Cobbe Collection of historic keyboard instruments.
Introduced by Sean Rafferty
Carole Cerasi (harpsichord)
Jean-Henry d'Anglebert: Suite No. 2 in G minor:
Prelude; Allemande; Courante; Sarabande; Gigue; Passacaille
Francois Couperin: Prelude No. 2 in D minor (from L'Art de Toucher le Clavecin)
From Ordre No. 19 in D major/minor:
L'Artiste; Les Culbutes Ixcxbxnxs; La Muse-Plantine
Jean-Philippe Rameau: Cinq Pieces:
L'Agacante; La Livri; L'Indiscrete; La Timide 1er rondeau
La Timide 2e rondeau
Antoine Forqueray: Suite No. 2 in G major:
La Bouron; La Mandoline; La Du Breuil; La Leclair.
Last on