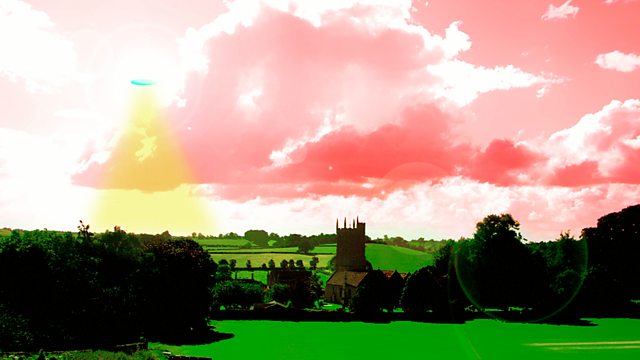 Taking Overs
Katrina Lyons was only visiting Cresdon Green, the village where she grew up, to borrow some money from her parents. But when she tried to head back to London, it turned out alien beings known as the Geonin had lowered a force field around the village and were refusing to let anyone in or out.
Unfortunately almost everyone in the village is too cowardly, apathetic, polite or stupid to stand up to this alien menace, so Katrina has no choice but to start the resistance movement herself. In the cricket pavilion.
EPISODE ONE: Taking Overs.
The force field around the village is keeping out all the rain, so the villagers can no longer moan about the weather. Uljabaan realises this means they're moaning about him instead. Whilst he tries to construct a device to simulate rain inside the force field, Uljabaan distracts the village with a cricket match - aliens versus humans, with Richard captaining the humans. Katrina sees an opportunity to sabotage Uljabaan's computer - if she can keep the match going long enough.
Welcome To Our Village, Please Invade Carefully is written by Eddie Robson (That Mitchell and Webb Sound, Newsjack), and stars Hattie Morahan (Outnumbered, Critic's Circle & Evening Standard Theatre Awards Best Actress'), Julian Rhind-Tutt (Green Wing, The Hour), Jan Francis (Just Good Friends, Emmerdale), Peter Davison (A Very Peculiar Practice, Dr Who), Hannah Murray (Skins, Game of Thrones), and John-Luke Roberts (Spats, BBC Three Live At The Fringe).
Last on
Credits
| Role | Contributor |
| --- | --- |
| Writer | Eddie Robson |
| Katrina Lyons | Hattie Morahan |
| Field Commander Uljabaan | Julian Rhind-Tutt |
| Margaret Lyons | Jan Francis |
| Richard Lyons | Peter Davison |
| Lucy Alexander | Hannah Murray |
| Computer | John-Luke Roberts |
| Producer | Ed Morrish |