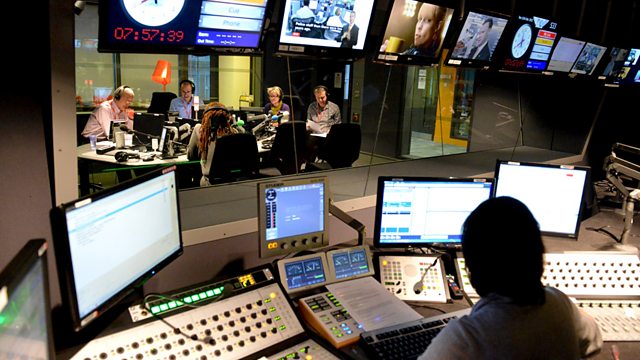 04/03/2013
Morning news and current affairs. Including Sports Desk; Weather; Thought for the Day.
Last on
A rundown of stories from Monday 4 March including programme highlights and comment.
Monday 4 March
Turmoil in the Catholic Church - John Humphrys speaks to Cardinal Cormac Murphy, who used to be this country's most senior Catholic. The Queen is said to be in good spirits after spending the night in hospital. And do you ever fall asleep on public transport?
0855

Kenyans are voting in an election today that observers describe as the most important in the country's history. Sir Edward Clay, former High Commissioner to Kenya and journalist and author Michela Wrong discuss what this election means for Kenyan politics.

0847

Cardinal O'Brien has been accused by many of hypocrisy in his stance against gay marriage. Dr Mike Davidson, from the Core Issues Trust and Ben Summerskill, Chief Executive of Stonewall discuss whether there is evidence of a connection between homophobia and suppressed same-sex desire.

0842

Simon Jack explains the Funding for Lending scheme. Is it making a difference to business and mortgage customers?

0840

The new Archbishop of Canterbury Justin Welby admitted during an address at Coventry cathedral that it was "a pleasure beyond description to be back in this wonderful cathedral where I have fallen asleep so often." The Today programme celebrates the public nap with the former MP Gyles Brandreth and the FT's theatre critic Sarah Henning.
See more live updates