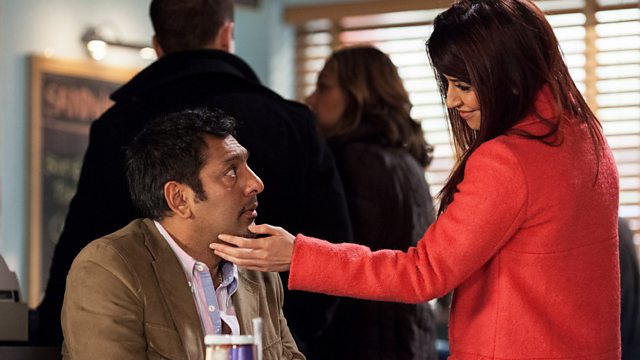 01/03/2013
Jack's sure Phil's plotting but Sharon's certain it's all in Jack's head. The partnership agreement for R&R arrives; Sharon will need her passport when signing it that evening. Sharon leaves Lola to look after Lexi. Abi confides in Lola that she and Jay are having sex. Phil arrives home early; he's furious with Lola and lectures Sharon. Lola talks to Sharon about how she used to pretend to be a mum when living at the children's home. Sharon extracts a promise from Phil that the share in R&R comes with no strings. After talking to Tanya, Sharon sees things from Jack's point of view - until she realises Jack's hidden her passport. Jack gives her the passport back but thinks her signing the agreement is signing them away. Sharon tells him if that's what he wants…
Magda can't stay with Patrick all day and he's lonely. By the time Denise and Kim finally get home he's hobbling around the room drunk. When Denise tries to help him he lashes out, and she falls, cutting her face. Patrick's mortified.
Masood's tempted to leave with Ayesha; work's awful, AJ's left the house in a state and Tamwar doesn't want to talk to him. Ayesha instructs Masood to meet her at 5.30pm at the tube station. AJ's cleaned up the kitchen but it's not enough to stop Masood packing. But when Tamwar arrives home having had an awful day, Masood realises he can't leave his son and Ayesha goes alone.
Despite Lucy insisting she's way out of his league, Ian invites Denise to his birthday drinks after she let Bobby have the candles for his cake free. He's touched when Denise brings him a card and buys him a drink.
Dot accuses Cora of stealing her silver ashtray. Later, she hides at home, alone, avoiding Ian's birthday celebrations.
Last on
Credits
| Role | Contributor |
| --- | --- |
| Jack Branning | Scott Maslen |
| Sharon Rickman | Letitia Dean |
| Phil Mitchell | Steve McFadden |
| Lola Pearce | Danielle Harold |
| Masood Ahmed | Nitin Ganatra |
| AJ Ahmed | Phaldut Sharma |
| Tamwar Masood | Himesh Patel |
| Denise Fox | Diane Parish |
| Patrick Trueman | Rudolph Walker |
| Kim Fox | Tameka Empson |
| Ian Beale | Adam Woodyatt |
| Lucy Beale | Hetti Bywater |
| Bobby Beale | Rory Stroud |
| Dot Branning | June Brown |
| Cora Cross | Ann Mitchell |
| Tanya Cross | Jo Joyner |
| Abi Branning | Lorna Fitzgerald |
| Executive Producer | Lorraine Newman |
| Director | Nigel Douglas |
| Writer | Christopher Reason |