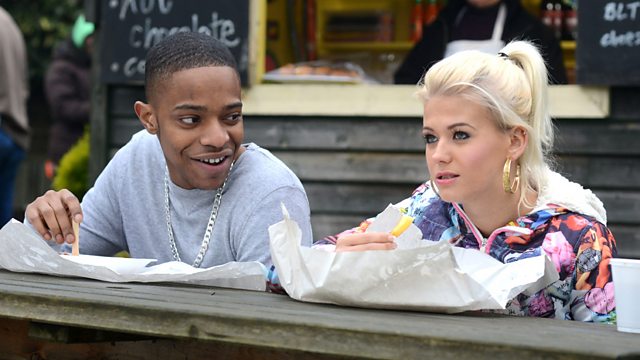 25/02/2013
Dennis helps Jack prepare breakfast for Sharon. Relieved when she cancels a call from Phil, Jack points out Sharon could be earning a fortune working elsewhere. Phil rejects Sharon's request for a pay rise. Sharon tells Jack she might have a job interview, Jack can't resist crowing to Phil. Phil has a contract drawn up, offering Sharon a share in R&R. Furious, Jack confronts Phil. Phil brags that Sharon knows the cost of the deal will be her relationship with Jack. Phil reminds Jack he told him Sharon would be his. Jack snaps and hits Phil. Phil stumbles and falls into the inspection pit, where he lies, lifeless, blood trickling from his ear.
Kirsty's hurt when Max admits he misses his family. When Alice attempts to buy pickled herrings, Derek's yearly birthday treat, at the Minute Mart she realises Michael's paid her with dodgy money; Denise overreacts and Alice calls Jack. After Alice confides in Kirsty that no-one's remembered her dad's birthday Kirsty decides to throw a party to cheer her up. Michael assures Alice the money was an honest mistake, and insists he'll pay her. Alice's tickled when Joey wolfs down the pickled herring. Raising the jar, she wishes Derek happy birthday.
Ayesha wants to book tickets for her and Masood to see a musical and pointedly asks Carol's opinion. Masood worries about alienating Tamwar, but AJ thinks he should have some fun. After a tense exchange with Tamwar, Ayesha's anxious he hates her. Masood agrees to go on a date with Ayesha and defiantly kisses her in full view of a disapproving Denise.
Phil's dismissive when Lola asks for a lift to court. Dexter buys Lola lunch, doesn't push her to talk and tells her she's a good mum.
Michael fails to talk Phil into doing business with him.
Last on
Credits
| Role | Contributor |
| --- | --- |
| Phil Mitchell | Steve McFadden |
| Jack Branning | Scott Maslen |
| Sharon Rickman | Letitia Dean |
| Max Branning | Jake Wood |
| Kirsty Branning | Kierston Wareing |
| Alice Branning | Jasmyn Banks |
| Michael Moon | Steve John Shepherd |
| Masood Ahmed | Nitin Ganatra |
| Ayesha Rana | Shivani Ghai |
| Tamwar Masood | Himesh Patel |
| AJ Ahmed | Phaldut Sharma |
| Dexter Hartman | Khali Best |
| Lola Pearce | Danielle Harold |
| Denise Fox | Diane Parish |
| Carol Jackson | Lindsey Coulson |
| Kat Moon | Jessie Wallace |
| Dennis Rickman | Harry Hickles |
| Executive Producer | Lorraine Newman |
| Director | Nigel Douglas |
| Writer | Jesse O'Mahoney |