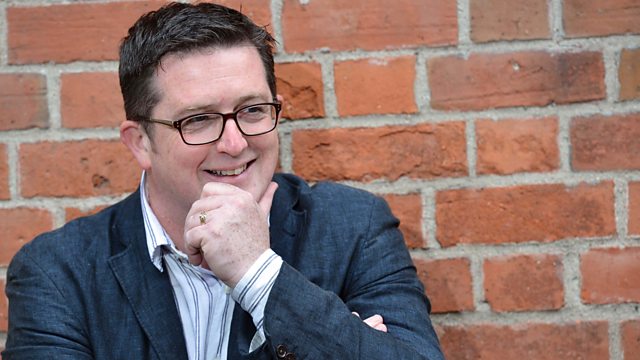 23/02/2013
Join John Toal for big interviews, fascinating people and great craic, plus the best in home-cooked food with recipes from kitchen queen Paula McIntyre. Including News.
Last on
Rhubarb Bread &, Pomegranate Glazed Pork Chops with Spiced Rhubarb & Almond Chutney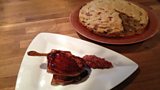 Rhubarb Bread
12 oz ( 350g ) new season rhubarb chopped into 1cm pieces
8 oz ( 225g) castor sugar
16 oz ( 450g) plain flour
½ teaspoon baking powder
½ teaspoon baking soda
3 oz ( 85g) butter
Mix the sugar and rhubarb together and cover. Leave overnight and give it the occasional stir.
Set the oven to 190oc.
Grease and line a 10 inch cake tin with parchment paper.
Rub the flour and butter together until the mixture resembles fine crumbs.
Mix in the baking  soda and powder and make a well in the centre.
Add the rhubarb with all the liquid and mix well.
Spoon into the prepared cake tin and smooth over the top.
Bake at 190oc for 30 minutes then turn the oven down to 160c for a further 15 minutes.
Pomegranate glazed pork chops with spiced rhubarb and almond chutney
4 x 200g pork chops
1 teaspoon oil
Salt and pepper
2 tablespoons pomegranate molasses ( available in delis, Asian shops and some supermarkets)
2 teaspoons honey
Heat a pan until smoking hot.
Rub the oil on the chops and season with salt and pepper.
Seal the chops off then lower the heat.
Cook for about 5 minutes each side or until it feels firm.
Brush over the glaze and cook for a further 2 minutes, turning frequently.
Rest for 5 minutes and serve.
Spiced Rhubarb and almond chutney
1 red onion, finely diced
300g chopped rhubarb
1 tablespoon oil
25g chopped fresh ginger
1 teaspoon all spice
1 teaspoon ground coriander
75g soft brown sugar
50ml vinegar
20g roughly chopped toasted almonds
Cook the onion and ginger in the oil until soft.
Add the rhubarb, sugar, all spice and coriander.
Cook for a minute then add the vinegar.
Simmer for 25 minutes then check seasoning and add the almonds.