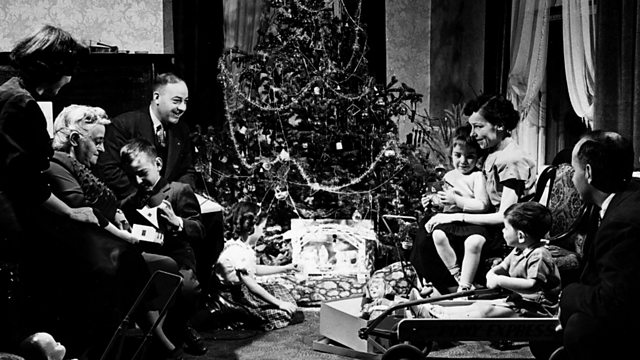 Merry Xmas Everybody - The People's Choice
From the very earliest days of The People's Songs planning, and in particular a lively evening of brainstorming and beer in the King's Arms, Salford, we decided that the final song, the track that would be at the heart of the fiftieth episode should be chosen by a listener. We thought that the scope of the narrative that we'd planned was broad and all-encompassing, from war to peace, school to work, from the Falklands to Ulster, and the silliness of the 'Ying Tong Song' to the exuberance of 'She Loves You' and 'You Should be Dancing' to the portentous solemnity of 'A Whiter Shade Of Pale' and the gravity of 'Shipbuilding'. But it was possible we'd overlooked something, either a great song or a significant event or important issue. And seeing as that final show would be around Christmas time, when specials were abounding, we felt that a different kind of show would be a good 'season finale' as our American cousins would say
So we asked for your People's Song and you duly obliged, with suggestions that ranged from anarcho-punk to disability rights, from brass bands to backpacking and gap years, prison culture to the British love of beer. Many of you suggested the death of Princess Diana and the subsequent shift in the very nature of Britishness from a country that showed the world a stiff upper lip to a nation that seems to revel in public outpourings of emotion... or at least sentiment. And of course Elton John's 'Candle In The Wind' was the perfect song. But on reflection, we felt that those issues had been touched on in other shows, not least the 'Things Can Only Get Better' episode about the Blair landslide and the seismic events of 1997, which had included the death of the People's Princess.
In the end, we went with the most popular suggestion. Slade's 'Merry Xmas Everybody' and Christmas itself, not just because it would make for a topical festive show but because Christmas looms large not just over our pop music - the Xmas number one is still the one chart-topper of the year that seems to excite public interest - but also because it gave us a chance to talk about related issues; the British love of a celebration and a party, family, work and the commercialisation of leisure.
So Noddy and Xmas it is. What remains now is for you to share with us your thoughts and memories, of that song itself of course, and the bleak, candle-lit Britain of 1973 it was released into, but of the importance of Xmas itself, perhaps how it has become a pan-religious celebration of 'Britishness' even to those not of the Christian faith.
Share your comments and stories
Your contributions will play a key part in this episode, take a look at the questions below and send us your thoughts:
What do you enjoy most - and least - about the festive period?
What are your memories of Christmas as a child? How do you think the festive season has changed over the years?
Do you have any special family traditions at Christmas?
What songs do you most associate with this time of year? And how do they make you feel?
What has been your best (or worst) Christmas present and why was it so exciting (or disappointing)?
You can send us an email now or read about other ways to contribute.
Last on