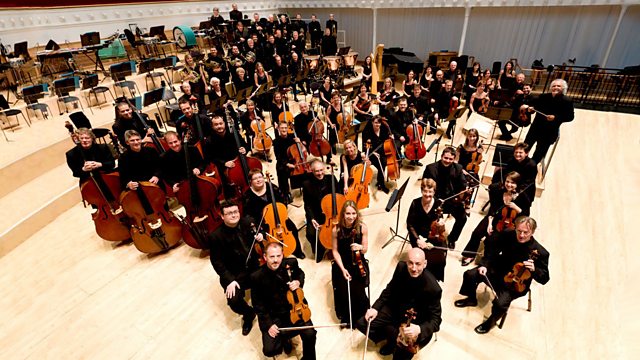 BBC SSO - Weber, Lutoslawski, Strauss, Beethoven
Live from City Halls, Glasgow
Presented by Louise Fryer
Matthias Pintscher and the BBC Scottish Symphony Orchestra perform Beethoven's Symphony No. 7 and are joined by Johannes Moser in Lutoslawski's Cello Concerto
Beethoven's shatteringly original 7th Symphony was deemed 'fit for a mad-house' by critics after its first performance in 1813, however it is Richard Wagner's description of the work as 'the apotheosis of the dance' that has stood the test of time. The composer-conductor Matthias Pintscher and the BBC Scottish Symphony Orchestra perform a concert of music inspired by 'the dance'. The Beethoven Symphony is partnered with Berlioz's orchestration of Weber's 'Invitation to the Dance', and Johann Strauss II's thoroughly Viennese Overture to his operetta Die Fledermaus.
Throughout the year the Orchestra has been exploring the unique contributions of composers from Poland, and this evening it is joined by Johannes Moser for a performance of Lutoslawski's Cello Concerto. To mark the composer's centenary year the German-born cellist takes on this work which grows from the pulsing of the cello alone to a musical drama pitting soloist against orchestra in a series of dramatic episodes which showcase Lutoslawki's deftly colourful orchestral palette.
Weber (orch. Berlioz): Invitation to the Dance
Lutoslawski: Cello Concerto
8.10 Interval
8.30
Strauss: Die Fledermaus, Overture
Beethoven: Symphony No. 7 in A major, Op. 92
Johannes Moser (cello)
BBC Scottish Symphony Orchestra
Matthias Pintscher (conductor).
Last on