Actress and singer, Toyah Willcox, takes Clare Balding for a walk in rural Worcestershire.
The theme for this series of Ramblings is 'self-improvement' and for Toyah - who has always had problems with her joints, including a recent hip replacement - walking is the perfect exercise. She says it helps her keep her weight down and remain active.
Clare met Toyah at Croome Landscape Park, a National Trust Property famous for its stunning grounds designed by Capability Brown. Unfortunately Toyah was injured - 97 pantomime performances over Christmas had taken their toll - but, crutch in hand, the ramble went ahead.
By the end of the walk, during which Toyah discussed her serendipitous route into show business and forthcoming performance in a 'bawdy' show called Hormonal Housewives, she actually felt better. Proof, she said, that walking is one of the best ways to remain healthy.
Producer: Karen Gregor.
Last on
Toyah and Clare walk and talk in Worcestershire
The view across Croome.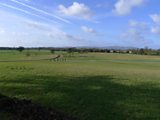 Featured in...
Listen to a collection of 30 top editions of Ramblings, presented by Clare Balding.