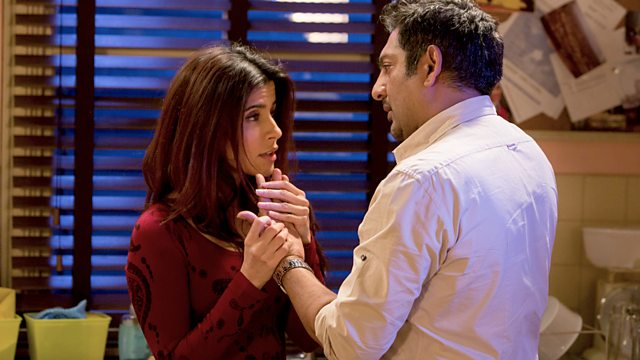 22/02/2013
While AJ drags Tamwar to the Vic, Ayesha tells Masood she's learnt of Zainab's departure. Surprised, Masood attempts to cancel his date with Carol but she arrives, put out, when Ayesha informs her she's not needed to cook. Masood awkwardly suggests Carol leaves. Ayesha helps Masood cook, and Tamwar returns home to witness an intimate moment as Ayesha tends to Masood's burnt finger; Tamwar's stunned reaction gives Masood a wakeup call and he offers to call Ayesha a cab. When she's offended he reconsiders but insists she can't stay un-chaperoned. Ayesha pulls Masood close, declaring she's come back for him now nothing stands in their way, leaving Masood in turmoil.
Chirpy Tanya covers her hurt on seeing Kirsty amidst her family; Abi and Lauren assure her Max and Kirsty haven't moved in. Kirsty's keen to leave, Max insists he needs five minutes with Tanya. Kirsty's not happy. Tanya cold with him, but agrees to talk. Max ignores a call from Kirsty, demanding to know if Tanya came back for him. Max pleads he still loves her but Tanya insists their relationship is destroying their children and she's only back for them. Max's upset, but later lies that he merely told Tanya that he and Kirsty were together.
Alfie reels from Kat's revelation. Roxy reminds Alfie that Kat and Michael are two single, consenting adults. Jean escorts an emotional Kat home. Kat despairs that she keeps hurting Alfie while Jean thinks she's hurting herself. Michael faces Alfie; Alfie declares he's just sorry for him.
Patrick insists Denise and Kim go out but once alone struggles to open his hip flask with his broken arm and his wheelchair topples over.
Bianca, Denise, Kim, Cora and Ava moan about men in the Vic. Ava reveals Dexter's father left after Dexter was born.
Last on
Credits
| Role | Contributor |
| --- | --- |
| Masood Ahmed | Nitin Ganatra |
| Carol Jackson | Lindsey Coulson |
| Tamwar Masood | Himesh Patel |
| AJ Ahmed | Phaldut Sharma |
| Max Branning | Jake Wood |
| Kirsty Branning | Kierston Wareing |
| Tanya Cross | Jo Joyner |
| Lauren Branning | Jacqueline Jossa |
| Abi Branning | Lorna Fitzgerald |
| Kat Moon | Jessie Wallace |
| Michael Moon | Steve John Shepherd |
| Alfie Moon | Shane Richie |
| Jean Slater | Gillian Wright |
| Roxy Mitchell | Rita Simons |
| Denise Fox | Diane Parish |
| Kim Fox | Tameka Empson |
| Patrick Trueman | Rudolph Walker |
| Bianca Butcher | Patsy Palmer |
| Ava Hartman | Clare Perkins |
| Cora Cross | Ann Mitchell |
| Executive Producer | Lorraine Newman |
| Director | Rupert Such |
| Writer | Patrick Homes |