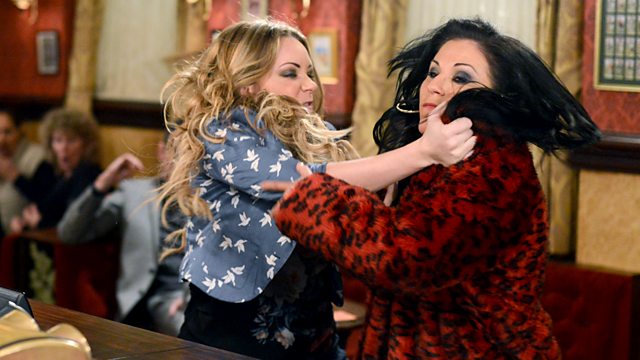 19/02/2013
Kat hides under her duvet and refuses to go to work until Bianca guilt trips her, insisting she focus on the positives. Kat returns to her stall, but is still upset with Michael and Jean. When Kat picks Tommy up from the Vic, she's spoiling for a fight; Roxy goads her, insisting she's brought everything on herself by acting like a slapper. Kat slaps Roxy twice and Roxy flies at her. Michael hauls Kat out as Alfie shouts she isn't fit to be a mother or a wife. At No. 23, Michael soothes a shaken Kat. Desperate for comfort, Kat kisses Michael and he responds.
At the café, Masood tries to help Liam catch up with his schoolwork during half term. Liam struggles and storms out, embarrassed. Masood coaxes him back and invites Carol for a drink to discuss some private tutoring. Carol's flattered and dresses up, while Masood reassures Tamwar it's not a date. At the Vic, Carol's miffed as Masood rolls on about Zainab; it's only when she walks out Masood realises his mistake. Masood pursues Carol and invites her on a real date.
Home from hospital, Patrick needs help eating and going to the toilet. He's hurt to overhear Kim and Denise bickering over who has to look after him.
Phil deliberately aggravates Lola, dismisses a cuddly dog she's bought as unsafe and withholds Lexi from her when she's late. Furious, Lola loses it; Dexter stops her from trashing a car at the Arches and warns she has to play Phil's game. Lola heeds Dexter's advice and apologises, to Phil's irritation.
On his first day as Assistant Market Inspector, Tamwar manages the market while Mr Lister's on holiday. Tyler gives him advice on handling women but he struggles to assert his authority with Bianca and Kat.
Last on
Credits
| Role | Contributor |
| --- | --- |
| Kat Moon | Jessie Wallace |
| Michael Moon | Steve John Shepherd |
| Alfie Moon | Shane Richie |
| Roxy Mitchell | Rita Simons |
| Jean Slater | Gillian Wright |
| Masood Ahmed | Nitin Ganatra |
| Carol Jackson | Lindsey Coulson |
| Liam Butcher | James Forde |
| Tamwar Masood | Himesh Patel |
| Bianca Butcher | Patsy Palmer |
| Lola Pearce | Danielle Harold |
| Phil Mitchell | Steve McFadden |
| Sharon Rickman | Letitia Dean |
| Patrick Trueman | Rudolph Walker |
| Denise Fox | Diane Parish |
| Kim Fox | Tameka Empson |
| Dexter Hartman | Khali Best |
| Jay Mitchell | Jamie Borthwick |
| Tyler Moon | Tony Discipline |
| Executive Producer | Lorraine Newman |
| Director | Rupert Such |
| Writer | Richard Lazarus |