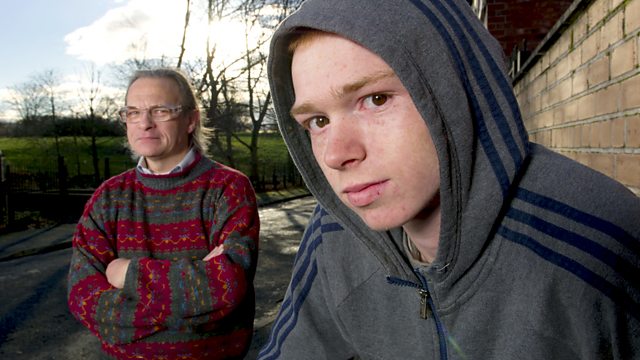 Three miles north of the city centre is a little-known Manchester suburb called Harpurhey. Ten years ago it was labelled the most deprived neighbourhood in England, but there's a lot more to life around here than government statistics.
In this six-part documentary series, a vibrant mix of feisty, witty and headstrong young people show us what it's really like growing up the hard way.
The Wakefield household becomes even noisier when the family's dogs have puppies. Eleven-year-old Maddy falls in love with them instantly and is desperate to keep one, but dad Paul is less enamoured as he has the job of clearing up after the new arrivals. Busy with all the work in the launderette, redecorating the house and now nine puppies to contend with, Paul is pushed to the limit and his relationship with Karen reaches breaking point. Will time apart allow tempers to cool?
We also meet best friends Arroll, 24, and Patrick, 21, who met at a party a year ago and bonded instantly over their shared love of beauty treatments and quick-fire banter. The boys are regulars in the gay bars and beauty parlours of north Manchester and now they're about to set off on a holiday to Kavos - or Chavos, as they call it. No beauty treatment is spared as they get plucked, pampered and primed in preparation. But will their friendship survive the carnage of a holiday in Kavos?
Pidge, 21, is an unemployed chef who has just moved out of his mum's house for the first time. He's renting a room in a shared house from Nik, 51, a landlord who owns numerous properties in the area. But after only eight weeks in the house, Nik is trying to evict Pidge following complaints about loud parties. In protest, Pidge hosts a party for his birthday and spreads rubbish around the front garden. As Nik and Pidge face off for an eviction battle, Pidge has one last dirty protest to make before being forced off the property.
We also meet PC Jim Evans, 24, who has been working as a police officer in Harpurhey for the past three years. We follow Jim and his colleagues as they police one of the highest crime areas in Manchester, from tackling drunken anti-social behaviour to ticking off a couple who have been 'caught in the act'.
Last on
Credits
| Role | Contributor |
| --- | --- |
| Narrator | Natalie Casey |
| Narrator | Natalie Casey |
| Series Producer | Sophie Leonard |
| Series Producer | Sophie Leonard |
| Director | Bruce Fletcher |
| Director | Bruce Fletcher |
| Executive Producer | Simon Dickson |
| Executive Producer | Simon Dickson |
| Executive Producer | Samantha Anstiss |
| Executive Producer | Samantha Anstiss |
| Producer | Rowan Deacon |
| Producer | Rowan Deacon |
| Director | Lara Akeju |
| Director | Lara Akeju |
| Director | Max Shapira |
| Director | Max Shapira |