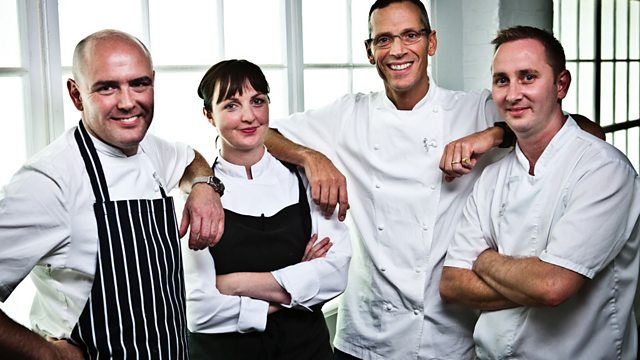 Great British Menu continues as 24 of the nation's finest chefs battle it out to cook gastronomic masterpieces that are also witty and fun. Their dishes have to put a smile on faces as Great British Menu celebrates 25 years of Comic Relief's Red Nose Day appeals.
Through the power of entertainment the charity has raised more than 800 million pounds, changing the lives of people in both Africa and the UK. So this year Britain's top chefs have been challenged to marry serious cooking with humour to celebrate the charity's achievements. The prize: to cook a dish at a special banquet at The Royal Albert Hall.
This time it is the turn of three chefs from the North West. Returning contender Aiden Byrne is determined to go all the way. This is his fourth time in the competition and he has never yet made it to finals week. But he is up against two fiercely competitive newcomers - Mary-Ellen McTague and Chris Holland both of whom are determined to make their mark.
The chefs also raise some cash in fundraising challenges and one of the chefs is joined by Miranda star, Sarah Hadland.
The three North West chefs will be judged by a veteran of the competition - two star Michelin chef Phil Howard who got a dish to the banquet last year. It is his job to decide which chefs make it through to the judges on Friday.
How will Aiden Byrne's dish entitled Mad As a Box of Frogs go down with veteran Phil Howard? Will he trounce Mary-Ellen McTague's crab starter or will Chris Holland's 'Oriental style beef broth with a twist' score more highly with Phil?
Last on
Credits
| Role | Contributor |
| --- | --- |
| Series Producer | Lisa Hazlehurst |
| Series Producer | Lisa Hazlehurst |
| Executive Producer | Nicola Moody |
| Executive Producer | Nicola Moody |
| Judge | Phil Howard |
| Judge | Phil Howard |