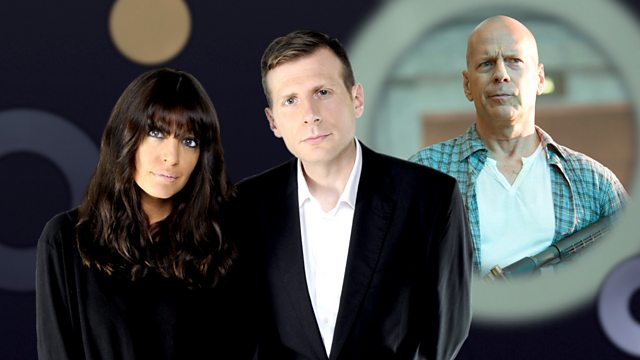 In this episode, Bruce Willis decides it's a Good Day To Die Hard, Paul Rudd gets older in This is 40, there's a look at the world behind the camera in documentary Side by Side, and Saskia Rosendhal stars in Cate Shortland's Lore. Plus Catherine Bray reveals her top five sequels.
Last on
A Good Day To Die Hard - Review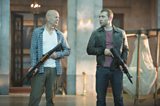 Danny: Die Hard has a tradition of amazing bad guys but here, the bad guys are from a pound shop.  For future reference, because they are making a sixth Die Hard – if you're going to be a villain in a Die Hard movie, you need more than just menacingly chewing on a carrot.
Claudia: I love the Die Hard franchise, I love the first one, I loved the third one. Very recently there have been lots of films of old guys who've stood up, been given a spray tan and a gun – we had The Last Stand with Arnie, then we had Sly Stallone and this one. I still say, of the three, the only one that actually made me laugh was Arnie in The Last Stand because it had jokes. This one doesn't have any jokes.
This Is 40 - Review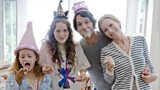 Claudia: I have a problem with his film which is that they are all awful. It's not real, that isn't 40. The main problem is the details – they keep talking about their financial crisis while sitting in an eight bedroom house. One's in a BMW, the other is in a Lexus, they go away on mini-breaks. None of it's real. They're just annoying.
Danny: This should be called 'this Is Judd Apatow,' because you've got Leslie Mann, Judd Apatow's wife playing the wife; you've got Judd Apatow's kids playing the kids. So it's kind of admirably but also uncomfortably personal. 
Lore - Review - Film of the Week 1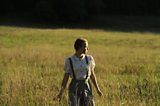 Danny: This film picks up just where Downfall ends. Hitler is dead, Berlin has fallen and out in the countryside it's chaos and you can trust no one. There's always a special power to films about children and war, and Lore is no exception to that. This family of kids go to try and find safety, at the same time as they're starting to understand what their parents are responsible for. I think this film is a hugely impressive piece of cinema – I think it's hypnotic, gripping, and it will not leave your head for a very long time after the credits have rolled.
Claudia: What's extraordinary is that it's coming at it from a totally different point of view. We've seen films about this period in history before, but these kids are brilliant – the acting is phenomenal, and it's Lore's slow realisation which you just can't stop watching.
Side by Side - Film of the Week 2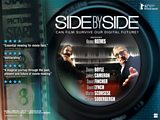 Danny: I think what it does very nicely is it operates as a sort of beginner's guide to film making - it's very accessible for people like me who wouldn't know one end of a movie camera from another. But it also sinks it's teeth into the nitty gritty of movie making in the 21st century and what's wonderful is it celebrates technology in film. The history of cinema is all about things dying and things being born – because if it wasn't we'd still be watching shaky black and white footage of trains pulling into stations.
Claudia: I think Keanu is brilliant – an astute, clver interviewer and he's not overawed and it's not all about him. He's completely respectful of the people he's interviewing. The other thing I love is that most people, whether they're proper film buffs, or whether they just love cinema,  will come into this film already with an opinion and it might be flipped. It's a fascinating watch.
You can catch Lore at the following locations from 22nd Feb.
West End/London
1.    Curzon Soho – 7 days 
2.    Curzon Renoir – 7 days 
3.    Curzon Richmond – 2 weeks
4.    HMV Curzon Wimbledon – 7 days
5.    Everyman Hampstead
6.    Gate Notting Hill – 7 days
7.    Ritzy Brixton – 7 days 
8.    Hackney Picturehouse – 7 days 
9.    Barbican – 7 days 
10.Greenwich Picturehouse – 7 days 
Regional
1.    Manchester Cornerhouse – 2 weeks
2.    Leeds Hyde Park – 7 days
3.    Norwich Cinema City – 7 days 
4.    Newcastle Tyneside – 2 weeks 
5.    Edinburgh Cameo – 2 weeks 
6.    Nottingham Broadway – 2 weeks
7.    Bristol Watershed – 2 weeks
8.    Showroom Sheffield – 2 weeks
9.    Cambridge Arts Picturehouse – 2 weeks
10.Irish Film Institute – 3 weeks
11. Glasgow Film Theatre – 11 days (25th Feb – 7th March)
March 1st
1.    Phoenix East Finchley – 7 days (no eve. Shows Sat)
2.    Exeter Picturehouse – 7 days
3.    Oxford Phoenix – 7 days
4.    Liverpool Picturehouse@FACT – 7 days 
5.    Cine Lumiere – 10 days (1st/2nd/4th/ 5th/6th/7th – 9th/11th/13th/14th)
6.    Brighton Duke of Yorks – 7 days 
7.    DCA – 7 days
8.    QFT Belfast – 7 days
March 8th
1.    Chapter Cardiff – 7 days
2.    Abbeygate Picturehouse @FACT – 7 days
3.    Watermans Brentford – 7 days
4.    Bath Little Theatre – 7 day 
5.    Chichester New Park – 4 days (not 9th/10th/13th)
March 15th
1.    Curzon Knutsford - 1 day (17th) 
2.    Bradford Picville – 6 days (19th/20th/22nd/23rd/26th/27th)
March 22nd
3.    Torch Milford Haven - 2 days (26th/27th) 
4.    Quad Derby – 4 days (22nd-24th & 27th) 
5.    Ipswich Film Theatre – 7 days 
6.    Electric Birmingham – 7 days 
March 29th  
1.    Dukes Lancaster – 2 days (30th-31st)
2.    ARC Stockton-on-Tees – 3 days (29th/30th/3rd)
3.    Watford Palace Theatre – 1 day (1st) 
4.    Aubin Cinema – 1 day (31st)
5.    Stoke Film Theatre – 1 day (4th)
6.    Hebden Bridge Picturehouse – 2 days (2nd/3rd)
7.    Phoenix Leicester – 7 days
April 5th
1.    Theatr Clwyd – 2 days (9th/10th)
2.    Riverside Hammersmith – 2 days (7th/8th)
3.    Plymouth Arts Centre – 7 days 
4.    Eden Court Inverness – 7 days
5.    Birmingham MAC – 2 days (8th/9th) 
6.    Lighthouse Poole – 5 days (5th/6th/9th/10th/11th) 
April 12th
7.    Trinity Tunbridge Wells – 1 day (17th)
8.    Theatre Mwladen Cardigan – 2 days (14th/16th)
9.    Courtyard Hereford – 3 days (13th/15th/16th)
10.Stamford Arts Centre – 2 days (14th/15th)
11.Saffron Screen – 1 day (15th)
12. Gulbenkian Canterbury – 2 days (12th/14th)
13. Haverhill Arts Centre – 1 day (17th) 
Credits
| Role | Contributor |
| --- | --- |
| Presenter | Claudia Winkleman |
| Presenter | Claudia Winkleman |
| Presenter | Danny Leigh |
| Presenter | Danny Leigh |
| Series Producer | Jayne Stanger |
| Series Producer | Jayne Stanger |
| Executive Producer | Basil Comely |
| Executive Producer | Basil Comely |